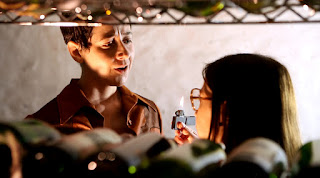 Day 4
For Day 4, we continued our basement antics! One of (what I made up as) the classic scenes in a film like this is the wine cellar scene. The only problem was that the Beach Mansion  a rental property, didn't exactly have a wine cellar. So, we made one. We bought the largest, cheap wine rack we could find, smeared it with candle wax and corn syrup to make it dingy looking, and filled it with wine bottles donated and loaned to us by family and friends. I had originally envisioned a large labyrinthine space with barrels and bottles aplenty, but as with all low-budget endeavors, you work with what you've got or what you can throw together. The script for the film was actually significantly revised once the location was secured to specify action appropriate for each of the existing spaces that we planned to shoot in. For the wine cellar, we were building it, so I was unsure exactly where it would reside.
As it turns out, the wine cellar we constructed actually existed in a room that previously (in the distant past presumably) housed horses. There were clear markings that the area was a stable, but the piece of evidence that sealed it for us was the horse salt lick visible during the basement interrogation scenes we filmed on days 8 and 9. The room also had giant oil tankers and oil lines, so we were pretty careful with where we placed our billion-degree (slight exaggeration, but very hot) tungsten and halogen lights while shooting! We managed to only break two wine bottles during the course of shooting – one while moving the wine rack, another that was backed into when it was waiting on a shelf.
As I always enjoy torturing and killing Rachel Leah Blumenthal in every movie we make, it was, as usual, great fun to have her get not only killed, but slapped in the face and have her glasses fly off. (Hi Rachel! 🙂 )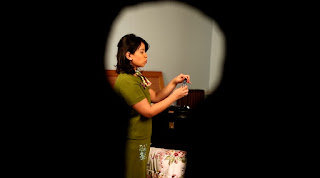 In addition to the keyhole shot mentioned in the day 3 summary of the shots inspired by Hitchcock and And Then There Were None, I was also quite excited to use a trick that Chris March showed me at the Ryan Lee Crosby video shoot. We couldn't afford a camera dolly for moving shots, nor did we really have the space for one. So, we bought a $50 stroller off Craigslist, rigged it so that a camera could be mounted to it (i.e., taped a tripod down to it), and used it for moving shots. A dolly would have been better, but it actually turned out all right, cost almost nothing, and added virtually no additional setup time for shots. We got to use this in the basement, as well as in a bedroom scene involving a peeping painting.
We shot several of the "creepy" early bedroom scenes showing what people were up to as they prepared for the evening and implying/showing that they are being watched as they prepare.
Here are some behind-the-scenes videos showing the dolly and how we made the peeper painting work.
The TEN days of shooting:
Overview
Day 1, December 4, 2012 – Wingaersheek Beach – Gloucester, MA
Day 2, December 6, 2012 – Beach Mansion – Barrington, RI
Day 3, December 7, 2012 – Beach Mansion – Barrington, RI
Day 4, December 8, 2012 – Beach Mansion – Barrington, RI
Day 5, December 9, 2012 – Beach Mansion – Barrington, RI
Day 6, December 10, 2012 – Beach Mansion – Barrington, RI
Day 7, December 11, 2012 – Beach Mansion – Barrington, RI
Day 8, December 12, 2012 – Beach Mansion – Barrington, RI
Day 9, December 13, 2012 – Beach Mansion – Barrington, RI
Day 10, December 14, 2012 – https://mjeml.michaeljepstein.com/ – Somerville, MA
Extra Inserts/Pickups Day, March 3, 2013 – Sophia Cacciola's House of Wax – Somerville, MA