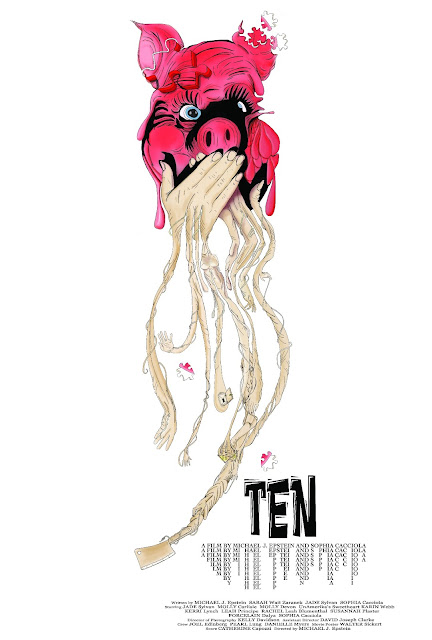 TEN official poster by Walter Sickert
We're super excited to have a mix of custom and existing art that we have had the opportunity to include in TEN. I can't even begin to express how lucky we are to have had this amazing group of artists get involved in TEN.
Here's a quick peek at some of that art and a little info about each of those artists! (I will spare you the "storyboards" I "drew" for my own reference.)
WALTER SICKERT
First, our official poster was designed by Walter Sickert. (We've collaborated with Walter before as well!)
(The story of Walter's conception of the poster.)
Walter was born on the sea and has dedicated his life to, and makes his living from, music and visual art.
Walter's art is showcased in museums and private collections world-wide and he routinely collaborates with authors, other visuals artists and musicians.
Walter is the founder and impresario of the SteamCRUNK band Walter Sickert & the ARmy of BRoken TOys who have been described as "Musically sophisticated and immensely talented, wildly unusual and diverse in material and presentation, a Dada-esque circus carnival run amuck, and just plain good 'not-always-so-clean' fun."
Walter Sickert recently produced 28 Seeds for the stage (with companion graphic novel and soundtrack), which he originally created as a radio play for the RPM Challenge. He was voted Boston's best artist by the Boston Phoenix readers' poll in both 2011 and 2012 and has illustrated several children's books. Follow the "Pied Piper of SteamCRUNK" & download his music: @WalterSickert & armyoftoys.com
Kristilyn – Zombie Romance
We were extremely grateful to get
Kristilyn
to design our official "Greetings from Spektor Island" postcard, which was sent to all of our
Kickstarter
backers and many other fine folks.
Kristilyn (We've collaborated with Kristilyn before as well!) is an illustrator, crafty crafter and occasional animator whose work can be found in galleries along the East Coast. When she isn't conjuring up her next adorably macabre image, she can be found around New England at a convention or craft show or in a Boston club drawing the most talented local bands as they perform.