TEN the Movie was born last year as what we thought would be just a fun trailer to make for the annual Brattle Theatre Trailer Smackdown! Of course, things don't always go as planned and we're in the midst of putting the final touches on a full-length film loosely based on our original trailer! Well, it was Smackdown time once again, and while we weren't able to pull out of our TEN cave in time to make another trailer, we gladly showed up to be extras in Izzy Lee's post-apocalyptic western trailer for John Smith. Izzy! Get working on the feature length! There is a precedent! A precedent which already includes UnAmerika's Sweetheart Karin Webb!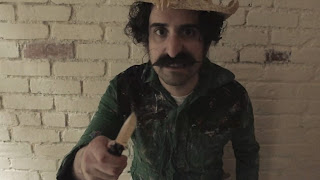 still of Michael in John Smith
As the Dig said (and kindly included our TEN trailer from last year), this event is one that makes our awesome film community and local theatre, The Brattle, stand out from corportate hegemony: "The Trailer Smackdown is a one-of-a-kind event that distinguishes the Brattle from the faceless multiplexes that threaten to choke out local cinemas. For one night, the Brattle screens trailers made by local aspiring filmmakers in fierce competition with one another for cash prizes."
Without further ado, John Smith:

John Smith from Skip Shea on Vimeo.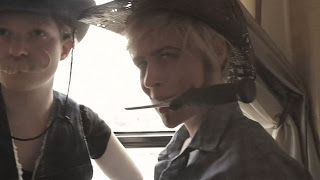 Sophia and Karin in John Smith