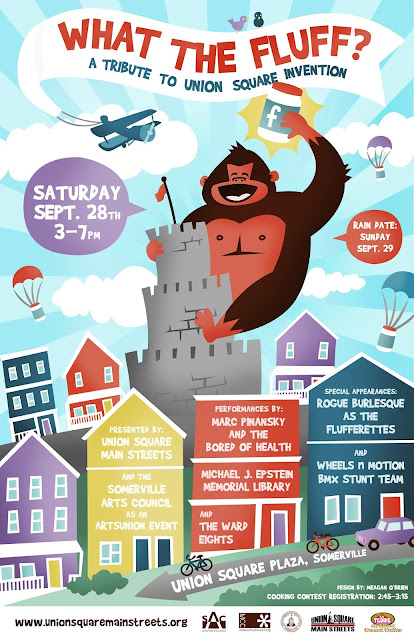 More info: http://unionsquaremain.org/fluff-festival/ – Facebook Event
What the Fluff? A Tribute to the Union Square Invention
Date: Saturday, September 28, 2013. 3 – 7 pm(Raindate Sunday, September 29)
Where:
Union Square Plaza in Somerville. Where Prospect Street, Washington Street and Somerville Avenue meet.
FOR THE EIGHTH ANNUAL "WHAT THE FLUFF?" FESTIVAL WE GO SUPER-SIZED, BIG AS A GIANT GORILLA CONQUERING PROSPECT HILL.
What the Fluff?: A Tribute to Union Square Invention honors the illustrious Fluff creator, Archibald Query, who concocted the gooey sticky spread right here in Union Square in 1917. On Saturday, September 28, 2013 local artists, musicians, theatrical performers, inventors, and humorists pay madcap tribute to the creation of this great American foodstuff on two stages.
Fluff games and shenanigans will spread the sticky goodness throughout the Union Square. Fest-goers can sample the taste of Fluff from our local vendors presenting sweet and savory Fluffalicious delights. Pair these with Fluff-inspired cocktails at local watering holes while jumping to fabulous shows from The Ward Eights, Marc Pinansky and the Bored of Health and Michael J. Epstein Memorial Library. Wheels n Motion BMX Stunt Team will show that Evel Knievel jumping Snake River Canyon was nothing compared to leaping over a tower of Marshmallow Fluff and fluffernutters!
"What the Fluff?" is expected to attract 10,000 Fluff fans. Sink deep into the sugary fun by creating a mallowey concoction for the cook-off or competing in the "Fabulous Pharoah of Fluff" competition.
Performance Stage: Musical performances by The Ward Eights, Marc Pinansky and the Bored of Health and Michael J. Epstein Memorial Library with special theatrical presentation by the Flufferettes as interpreted by Rogue Burlesque. Wheels n Motion BMX Stunt Team join us for tricks.
Cooking Contest: Whip up an original recipe with Fluff or present your best interpretation of a classic. The judging team is headed up by Liz Bomze, Editor at Cook's Illustrated. The Cooking Contest Grand Prize Winner gets a tour of the Durkee Mower Fluff factory, a one-of-a-kind trophy and gift certificates to local businesses.
Fabulous Pharaoh of Fluff: Campaign and get elected as our new leader. The winner will be crowned by last year's Pharaoh with a special creation by CostumeWorks, the Union Square folks who do the wacky outfits for the Hasty Pudding Theatricals.
Shenanigans Stage: All the big, messy Fluff games have their own stage with games including Fluff Lick-Off, Blind Man's Fluff, Fluffer or Nutter Relay, Fluff Hair Dos and Fluff Jousting.
Fluff Games for All Ages: Pin the F on Fluff Boy, Fluff Fishing, Pyramid Toss and the game of culinary roulette we call Fluff Fear Factor. Win prizes!
Vendors: Buy Fluff treats and Fluff inspired items from whoopie pies to Fluffernutters.
SPONSORSHIP
What the Fluff? is produced by Union Square Main Streets and sponsored by The Somerville Arts Council's ArtsUnion with funding from the Massachusetts Cultural Council, the City of Somerville and other generous supporters. Union Square Main Streets brings together residents, business owners, government and other stakeholders to collaboratively improve the district.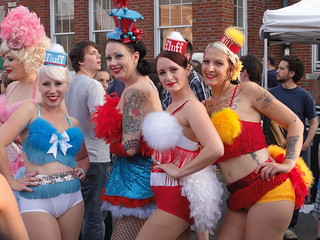 SCHEDULE