We are so excited that USA Today's POPCANDY blog premiered our brand-new Do Not Forsake Me Oh My Darling music video for the song "EPISODE 10: LIVING IN HARMONY"
The entire video was shot at 5 Wits "Espionage" immersive adventure at Patriot Place in Foxborough, Mass. Kelly Davidson was our cinematographer. The song was mixed and mastered by Mike Quinn at The Moontower studio in Q Division, Somerville MA. Michael J. Epstein edited the video and recorded the song, which also features Susannah Plaster on the viola and Rachel Leah Blumenthal on the oboe.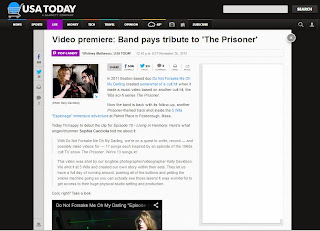 The song "Episode 10: Living in Harmony" was released (via a premiere at the Boston Herald's Guestlisted blog) in November on the double-single "By Hook or By Crook" with "Episode 15: The Girl Who Was Death" (look for that music video in the next couple of weeks!) – both tracks are pay-what-you-want on Bandcamp and available to stream on Spotify!
Bishop and Rook also posted the video, and Vanyaland! Please check it out and share it if you like it!