Words and Music: A Literary Jam Session
5:45PM SATURDAY, OCTOBER 25
OLD SOUTH SANCTUARY, 645 BOYLSTON STREET, Boston
In this one-of-a-kind session we'll hear from three authors who've infused their recent novels with music, from classical to rock 'n' roll. The heroine of Stacey d'Erasmo'sWonderland is a middle-aged rocker embarking on what she hopes will be her comeback tour. The young characters in Kate Racculia's Bellweather Rhapsody find more there's more than just music to discover (hint: corpse) at an orchestra camp in upstate New York. Wonderkid by Wesley Stace tells the story of the tumultuous rise and fall of a rock band whose audience is still in diapers. Musical interludes will be provided by Stace (aka John Wesley Harding), the appropriately named indie ensemble-pop group The Michael J. Epstein Memorial Library, and by our host, Pulitzer Prize winner Paul Harding, who's also no slouch at the drums. Dancing in the aisles is encouraged! Sponsored by Houghton Mifflin Harcourt.
Boston Book Festival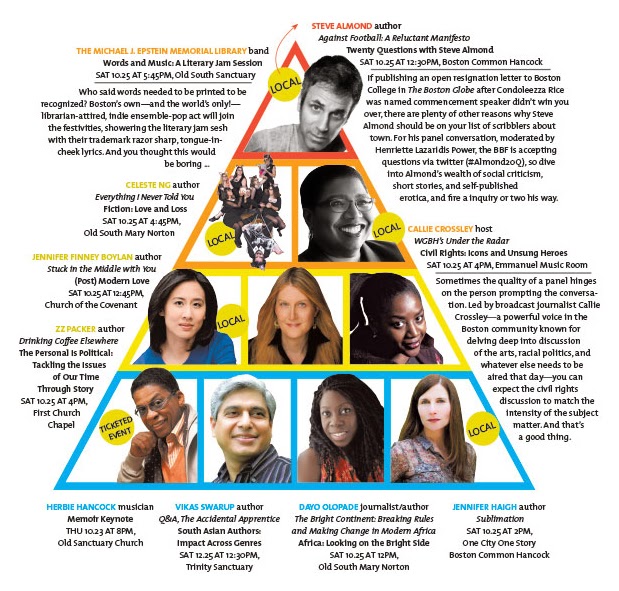 DIG pyramid of BBF excitement!
MJEML are mentioned in the Dig's Ten Events Not to Miss at the Boston Book Festival!