A stand up comic has to decide if he can keep performing material based on his own life issues. Set in the comedy world, It's Not Funny Anymore is about mental illness in creative people who have to decide if self sabotage for art is worth doing it.
It's Not Funny Anymore (feature) is Mark Phinney's follow-up to FAT.
"FAT,"  premiered at one of the biggest festivals in the world – The Toronto International Film Festival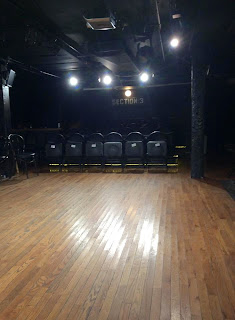 much of the film will be shot in the local comedy clubs
including Improv Asylum and Laugh Boston
(TIFF). TIFF creative director Cameron Bailey named us in his personal Top 9 Films to See at TIFF '13 and was listed in Boston Globe film reporter, Ty Burr's Top 10 to See. Burr wrote that it: "Nailed the Boston movie. Making a true and sincere local film." Indiewire called it one of the "Most brave, ballsy films about weight ever" and Collective Friction said it "Captured the zeitgeist the way Clerks did in 1994."
In the way that FAT tackled weight, It's Not Funny Anymore hopes to tackle depression among creatives – with a very candid eye.
More about It's Not Funny Anymore:
Pete is sinking further and further into depression while mining his life for material. He starts to feel that loving a "healthier" life can save him from what his best friends ends up doing. While in a dysfunctional relationship and state of mind, Pete starts falling apart for the sake of his act.
It is the story of a stand up comedian who uses his personal issues to create his comedy. He mines his tragedies, depression, and every day ups and downs to funnel into his act. It's starting to get to him. Eventually it starts to break him down to where he questions if he can even do it anymore.
Meanwhile he's surrounded by other dysfunctional, but talented, friends, relationships and comics.
Is getting "healthy" in the heart and head an answer for Pete's life or does he have to be messed up to create and feel good about his art? That is a question most creatives deal with everyday.
Set in the local stand up scene, "It's Not Funny Anymore" is about mental and emotional illness. Seen through the lens of stand up, the film is stark, raw look at depression and suicide done in the same no holds barred fashion as Fat.
Michael and Sophia will be helping out doing sound on the film! Support the kickstarter and support an independent, locally-made film about a very important issue! INFA facebook, twitter