We're very pleased to introduce you to all of our Blood of the Tribades cast (film web site) over the next few weeks. The film is currently raising money for production on Kickstarter.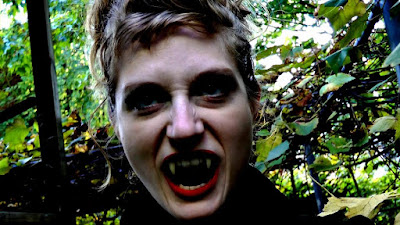 Sophia as Dracula in Darling Pet Munkee's Genuine Soil from Dracula's Castle
Sophia Cacciola as Bathsheba

Short bio: Sophia was born on a mountaintop, raised on a farm, and came of age on the mean streets of Harvard Square. She plays rock 'n' roll and makes movies.

What excites you the most about BOTT: Pro-tip: if you are the director of a movie, you can have a cameo and no one can stop you! I'll be in a short scene as Bathsheba, you will see sides of me you've never seen before!

I'm so thrilled to be making this movie with such an amazing cast and crew, I'm really excited to be working in this community and to be tackling my favorite genre. I love exploring the lives of vampires; there is something so seductive about immortality and then, how you use your time and what it means to exist.


What scares you the most: Ghosts. Sleep paralysis. Peak oil. Climate Change, solar flares, propagating this species. And my mortal enemy: lake algae. I also have nightmares about everyone's costumes and locations not coming together!

Who is your favorite vampire (and why): My favorite movie vampire is Ingrid Pitt in everything, and my favorite real life vampire is Elizabeth Bathory, and Ingrid Pitt as Elizabeth Bathory in Countess Dracula! Bathory bathed in the blood of virgins in order to stay young and beautiful. I can relate to this a little too much, especially today, ON MY BIRTHDAY.

Anything else you'd like to add: Have you seen your dentist lately?



Where you can find Sophia:
http://sophiacacciola.com
http://facebook.com/sophiacacciola
http://twitter.com/sophiacacciola
http://instagram.com/sophiacacciola