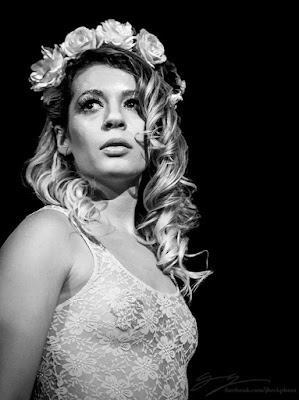 We're very pleased to introduce you to all of our Blood of the Tribades cast (film web site) over the next few weeks. The film is currently raising money for production on Kickstarter.
Maggie Maraschino as Nephite Ruthven

About Maggie: Maggie is part of the Boston Burlesque scene. A member of The Slaughterhouse Sweethearts, she's also been a part of the holiday spectacular, The Slutcracker. She's very excited to be in her second acting role in a film!
What excites me the most about BotT: Portraying vampire lore that isn't shown often in newer films and shows. Also playing an immortal character!
What scares me the most: Getting bored and seeing the worst of humanity over time due to immortality.
Favorite vampire: Vampire Eric Northman from True Blood. He is assertive, strong, was a Viking when turned, and also is protective of those he loves. He's also really handsome.
Anything else you'd like to add: I can't wait to work with the amazing cast and crew!
Where can you find Maggie:
https://www.facebook.com/maggie.maraschino