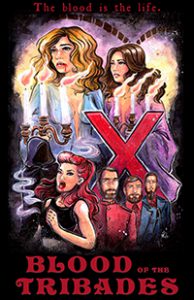 We are thrilled to announce that we are working with SRS Cinema to bring to you a very special, limited-edition VHS release of Blood of the Tribades! Most of our horror education came from renting down the row based on covers at the small video stores in our towns, so it is a wonderful, nostalgic tie to be able to present our movie as it might have been presented when released on VHS in the 80s (though it's better now because of the switch from 4:3 to 16:9 televisions).
Pick up a copy today! For blu-ray, DVD, and VOD, check out our general Blood of the Tribades watch/buy page!
2/15/17 – Syracuse, NY It's been awhile since we had a good ole fashion Vampire flick, and what a way to come back to this sub-genre with Michael J. Epstein's and Sophia Cacciola's "Blood of the Tribades". A festival hit, the movie comes home to VHS like teeth to a pulsating neck vein in our limited edition release.