MUSIC
We filmed the event and have posted a song from each set below!
The Women of Rock Oral History Project launch party was a grand, sold-out success!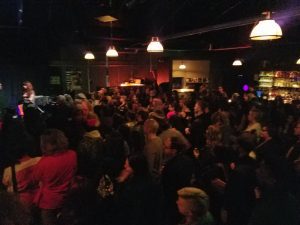 PANELS
Excellent, thought-provoking panels given by:
This Thursday, rock stars and aficionados alike will meet at Zebulon Café Concert in Los Angeles for a night of music, history, and empowerment. The Women of Rock Oral History Project, a collection of digital and written interviews documenting the careers of women in rock n' roll, is primarily located at the Sophia Smith Collection at Smith College, but the women highlighted by the project will be in L.A.
Azalia Snail (left) is among the women Tanya Pearson (right) has interviewed. Courtesy Women of Rock Oral History Project A Frogtown party will raise funds for the Women of Rock Oral History Project When Tanya Pearson was an undergrad at Smith College, she wanted to write a paper about representations of women in 1990s rock media.
Tanya Pearson was a student at Smith College in Massachusetts when she conceived of and developed an inspired idea: conduct and collect a comprehensive series of interviews with female rock and rollers, with the ultimate goal of ensuring that the same recognition and place in rock history available to men is also up for grabs for women.
Scratch that-it's remaking history. And this time, it's getting it right. By Remy Ramirez From Led Zeppelin to Nirvana, the term "rock 'n roll" is practically synonymous with masculinity-rarely is the genre readily associated with even the heaviest woman-identifying hitters. But maybe that's more about historical bias than anything else.
Ever since rock began, it has been kind of like a little boy's fort with a big NO WOMEN ALLOWED sign (Written in adorable crooked letters, which is probably the only time misogyny has ever been considered the least bit adorable). The history of rock, and especially punk, has been dismissive at best, if not completely overlooking women' contributions.
There was a very hot ticket in town on Thursday night, Zebulon café was hosting a very special night with many famous women of rock.
When I think about rock & roll as a whole, the artists who first come to mind are Robert Plant, Jim Morrison, Jimmy Page, John Lennon, Keith Moon, Jimi Hendrix, Eric Clapton, Iggy Pop, Slash, etc., etc. The list goes on forever. But only after naming all these musical dudes,...
It has long been the case that, with a handful of exceptions, women have been relegated to the sidelines of rock history - at least as it's been written by (mostly) men. In the year of #MeToo and women refusing to be silenced, archivist Tanya Pearson's Women of Rock Oral History Project feels increasingly necessary.
Party with a purpose! Thursday night at Zebulon in Silver Lake launched the Women of Rock Oral History Project fundraising events, with a punk rock price of only ten bucks. The fundraising events will sustain the project's growing travel and transcription costs. The Women of Rock Oral History Project began in 2014.
The Women of Rock Oral History Project is a collection of digital interviews and written transcripts housed at the Sophia Smith Collection at Smith College, documenting the lives and careers of women in rock music, focusing primarily on artists who have been left out of the popular rock narrative. The Women of Rock Oral History Project has been made possible, in part, by the Helen Gurley Brown Magic Grant (2016) and the Rebecca Samay Rosenthal Memorial Fellowship (2015). The project is otherwise self-funded and sustained entirely by volunteer labor. This labor includes travel, video recording and editing, transcribing, grant writing, event organization and promotion, and publicity. You can view the list of volunteers here.