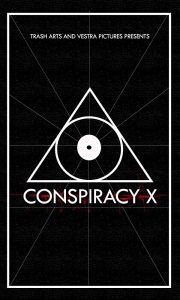 Conspiracy X is an anthology with documentary style footage and short horror films based on Global conspiracy theories.
I made a segment for this: "Operation: Fist of God" about how Russians brainwashed and planted fundamentalist Christian leaders in the US in the 80s to destroy progress & undermine political freedom. My film includes a history of the operation and a small bit of recovered hypnosis / mind control film from it.
Available for a limited time on YouTube ( I made the segment at 38:50, though you should definitely watch it all!)
Produced By
Sam Mason Bell
Tony Newton
https://www.facebook.com/ConspiracyXUk/
https://www.imdb.com/title/tt5831668
Troma Now proudly presents A documentarian is asked to meet a whistleblower leaking the truth of some of the worlds most dangerous conspiracies, but is everything how it seems? From the Illuminati to satanic subliminal messaging, the whistleblowers open up there world, or does he? From Trash Arts and Vestra Pictures.
Wrapped into a interview between reporter Samantha (Jessica Hunt), conspiracy theory expert Conor Roberts (Martin W. Payne) and professional cynic Shwartz (Kevin Cordell) about the phenomenon of conspiracy theories as such, and their origins, are shorts about the illuminati controlling a job interview, mobile phones causing havoc, the ties between the KGB, the religious right and 9/11, illegal drug testing, paranormal investigators, a Bigfoot -like creature called Skunkape, the "dark web", and the mysterious death of a "truthseeker" (read conspiracy theorist).
https://www.horrorscreamsvideovault.co.uk/2018/11/film-review-conspiracy-x-2018.html