The Once and Future Smash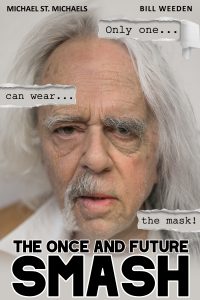 In 1970, Mikey & William both portrayed football cannibal Smash-Mouth in the influential cult hit, End Zone 2. Now, 50 years later, only one can wear the mask.
The Once and Future Smash is the story of Mikey Smash and William Mouth, who both played Smash-Mouth, the football-themed slasher character in the lost 1970 cult film, End Zone 2. They are now on the convention circuit 50 years later, trying to reclaim the iconic role in the upcoming reboot sequel that starts one hour into End Zone 2.
More info: https://launchover.com/launch/film/the-once-and-future-smash/
A Launch Over and Without Your Head Film; Produced by: Sophia Cacciola / Michael J. Epstein / Neal Jones
Directed by Sophia Cacciola / Michael J. Epstein - Written by Michael J. Epstein
Starring: Michael St. Michaels (The Greasy Strangler), Bill Weeden (Sgt. Kabukiman N.Y.P.D.), A.J. Cutler
Featuring: Mark Patton (Nightmare on Elm Street 2), Laurene Landon (Maniac Cop), Richard Elfman (Forbidden Zone), Mark Torgl (Toxic Avenger), Melanie Kinnaman (Friday the 13th Part V: A New Beginning), V.C. DuPree (Friday the 13th Part VIII: Jason Takes Manhattan), Victor Miller (Friday the 13th), Marc Sheffler (Last House on the Left), Carl Solomon (Tropical Cop Tales), Adam Marcus (Jason Goes to Hell), Todd Farmer (Jason X), John Dugan (Texas Chain Saw Massacre), Bill Johnson (Texas Chainsaw Massacre 2), Bob Elmore (Texas Chainsaw Massacre 2), LLoyd Kaufman (Troma), Claudio Fragasso/Rossella Drudi (Troll 2), Tim Dry (Xtro), Dan Yeager (Texas Chainsaw 3D), Joe Castro (Terror Toons), Jared Rivet (Day of the Dead TV series), James Branscome (Cinematic Void), Heidi Honeycutt (Etheria)
End Zone 2
Fifteen years after the events of End Zone, Smash-Mouth is back to finish off the cheerleaders who killed his mother
Produced by Tex Beckerson, Jacques Renault; Written by L. Ray Hobbson; Directed by August Kane; Starring: Percy Wynne, Bernadette Ryan, Dahlia Dimont, Patricia Ford, Melody Riviera, Mikey Smash, Randall Browning
More info: https://launchover.com/launch/film/the-once-and-future-smash/
About the restoration:
End Zone 2 was shot in 1969 on a modified Arri 16ST. Most 16mm release prints were struck from the original composite negative, which was eventually irrevocably damaged in the process. Six partial prints and a partial Italian internegative (the only source for the titles) were used to recreate the film in as close a form as possible to the original presentation based on written records and a partial magnetic audio master. While some prints were prepared with widescreen mattes, the film is presented here in unmatted form with 1.375:1 aspect ratio. As with all previous attempts at restoration, it was not possible to locate the last thirty minutes of the film. It is believed to be lost.
Launch Over is honored to present this landmark work to the public for the first time since its original theatrical run.