Sophia and Michael are very excited to be working on director Matt Stuertz's Wake Not the Dead (IMDb)! We had the pleasure of meeting Matt at the Buffalo Dreams Fantastic Film Festival when we were showing Blood of the Tribades and he was showing Tonight She Comes. Since then, we have become great friends, and he has worked with us on numerous projects, including Clickbait, Half-Cocked, and The Once and Future Smash. We always love working with Matt and were honored to be asked to be part of the crew and cast for Wake Not the Dead!
Sophia is 1st AC and Michael is sound mixer and we have cameos that involved awesome makeup/prosthetics. In fact, Michael believes in this movie so much that he shaved off his beard so that it could be used in the prosthetic process (and used to make pubic hair!). If that doesn't tell you that you should contribute your hard-earned money to the crowdfunding campaign, we don't know what will!!! Maybe the amazing and awesome pitch video, which includes a teaser trailer as well!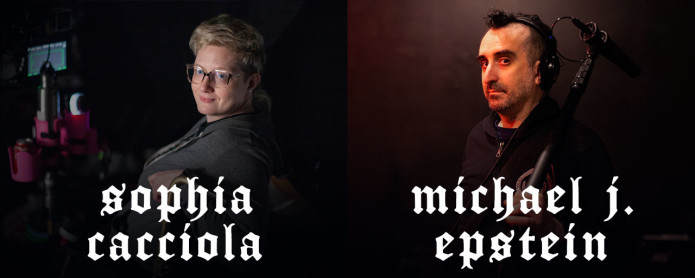 From the campaign:
What is WAKE NOT THE DEAD?
To put it simply: it's exactly the kind of movie that I want to see every time I go to a movie theater. It's full of interesting characters, it throws you right into the action, it's weird as hell, and it's going to be roughly 85 minutes long. Take equal parts Rear Window, The Burbs, Nightcrawler, and Return of the Living Dead, throw 'em all into a blender, mix until unrecognizable, then reconstruct them into something that (hopefully) resembles an early Peter Jackson film.
It's my favorite script I've ever written, and after seeing the actors bring it to life in what we've filmed so far, I love it even more. I'd say the video above (in both the BTS footage and the **spoiler for those who haven't watched yet ** TEASER TRAILER) gives a pretty good vibe both of how much fun we've had shooting this AND the tone of the movie itself. However, what we don't show you (because I personally hate trailers that give away moments that are MEANT TO BE SEEN FOR THE FIRST TIME ON SCREEN) is just how wild and insanely violent (yet in a mostly fun and cheering at the screen kind of way) this movie gets.
Going to film festivals is one of my favorite things in the world, and seeing a movie play where the audience loses their collective minds is the absolute best. And it's even better when it's your film playing on that screen. So, that's exactly the kind of film we're trying to make here.