Buffalo Dreams Fantastic Film Festival
November 4-13, 2016
Eastern Hills Cinema in Williamsville, New York
Sophia and Michael will be in attendance!
Monday, Nov. 7th at 9 pm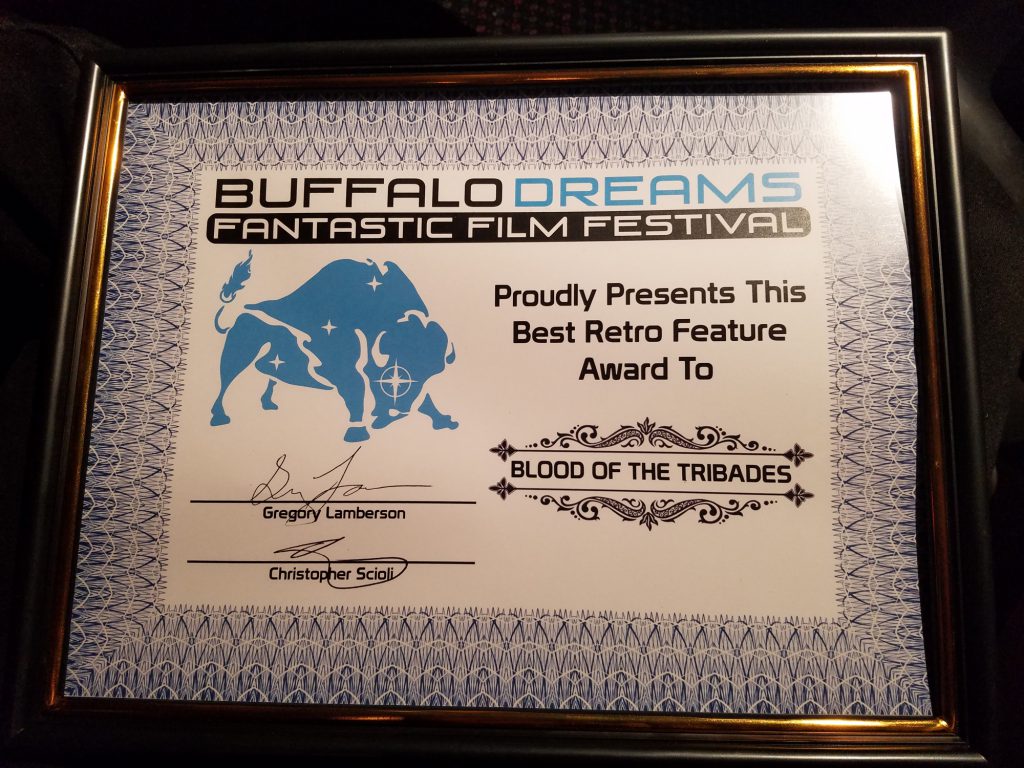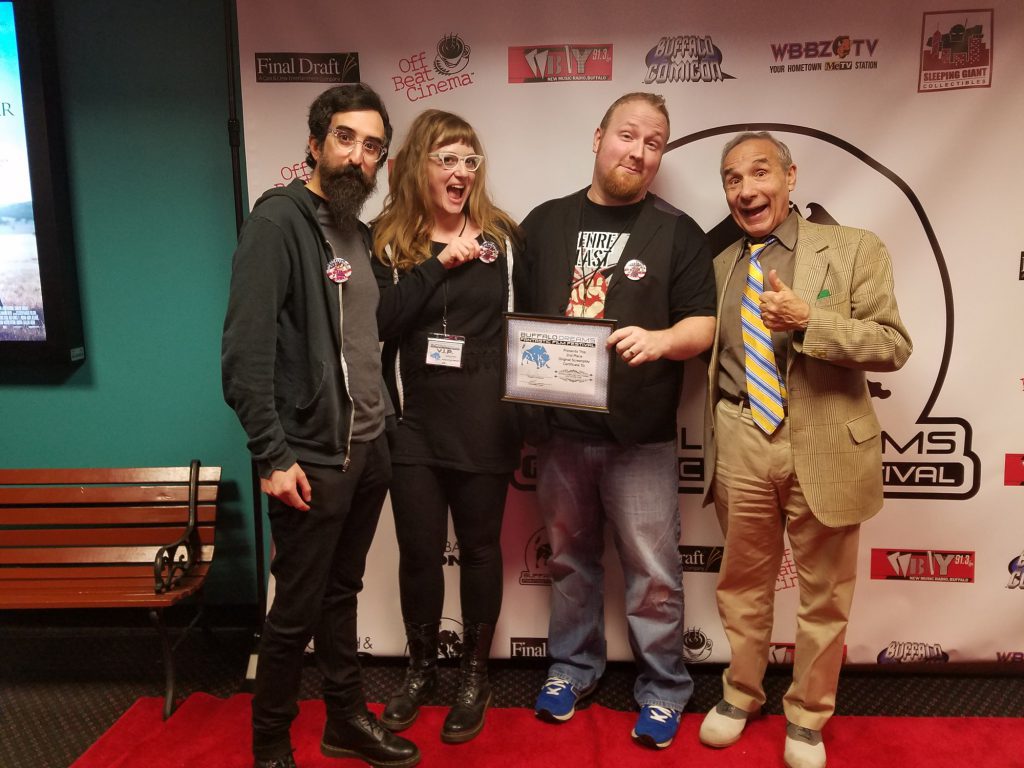 Full Monday Schedule:
MONDAY, NOV 7TH
AT EASTERN HILLS CINEMAS
1:00 pm     Block 14:     The Forest (Drama/Fantasy, Thailand, 1 hr 50 mins). A beautiful film from Thailand, perfect for the art house crowd at Eastern Hills Cinema. A new teacher at a rural school and a deaf mute girl deal unravel a mystery while dealing with superstitious villagers. Exquisite cinematography and locations. Much of the film uses the local Isaan dialect, and the child actors were from local schools.
3:20 pm     Block 15:     Seizure (UK, Horror, 85 mins). World premiere of a combination crime thriller/horror film from the UK. A ruthless gang of traffickers tale possession of a cursed Romanian girl. They flee to a safe house in rural England and are attacked by mysterious forces.
5:00 pm     Block 16:     Faux Paws (US, Comedy, 93 mins). New York State premiere. Hilarious comedy about two gay werewolves fleeing oppressive authorities for the safety of Maine. Social satire galore, great comic performances.
7:00 pm     Block 17:     Dances with Werewolves (US, Horror, 90 mins). World premiere of a terrific new werewolf film co-written and co-directed by Don Glut, an author, comic book writer and filmmaker who has delighted horror fans for decades. When Cassie flees an abusive relationship and falls victim to a moon-worshipping 600 year old Romanian Countess, a troubled paranormal investigator of Native American descent finds himself in a deadly love triangle. Featuring the late, great Angus Scrimm of Phantasm fame. Sexual situations. Short: Arach-NOPE-phobia (WNY, 7:30).
9:00 pm     Block 18:     Blood of the Tribades & Squatters (US/WNY Horror). Blood of the Tribades, which features nudity, is a beautifully shot homage to the erotic Euro vampire films of Jean Rollin and Jesus Franco, and an authentic addition to the subgenre. Followed by Squatters, a terrifying and violent Rochester horror film that brings the Texas Chain Saw Massacre to Western New York. This is the New York State premiere of Tribades, and filmmakers Sophia Cacciola and Michael J. Epstein join us for a Q&A. The Squtters team will be on hand as well. Short: Bug Love (WNY, 7 mins 30 seconds)
DREAMER AWARD NOMINATIONS
BEST HORROR FEATURE
Bed of the Dead (Canada)
Blood of the Tribades
Dances with Werewolves
The Dark Tapes
Let Her Out (Canada)
Tonight She Comes
BEST SCIENCE FICTION FEATURE
Diverge
Neil Stryker and the Tyrant of Time
Shortwave
The Tomorrow Paradox
BEST THRILLER FEATURE
All the Wrong Friends
Dead Bullet
Reunion
Shortwave
BEST DRAMA FEATURE
Game Changers
Two for One
BEST COMEDY FEATURE
Attack of the Killer Shrews
Faux Paws
Massacre on Aisle 12
Midnight Delight
Neil Stryker and the Tyrant of Time
They Want Dick Dickster
BEST WESTERN NEW YORK FEATURE
Attack of the Killer Shrews
Game Changers
House on Ghost Hill Road
#Screamers
Six Guys, 6,000 Miles
The Outlaw 666: The Beast
BEST INTERNATIONAL FEATURE
The Forest (Thailand)
Seizure (UK)
The Night of the Virgin (Spain)
BEST SHORT FEATURE
Condemned with You All (WNY)
Detective Randy Noir (WNY)
Finish Line
Libertaria (WNY)
Sienna's Choice
Squatters (WNY)
 BEST SHORT FILM
Alchemy
The Backpage
Burnt Popcorn
Caucemar Capitonne
The Fisherman's Wife
Little Dougie
BEST WESTERN NEW YORK SHORT
arach-NOPE-phobia
Edge
Pastime
Renae                 
BEST INTERNATIONAL SHORT FILM
Avant
BloodHunters
The Frozen Eye
Sputnik
Yo Soy Pedro
BEST DIRECTOR
Jon Abrahams, Two for One
Cody Calahan, Let Her Out
Shaun Chau, Reunion
Ryan Gregory Phillips, Shortwave
Erik Reese, Dead Bullet
Roberto San Sebastian, The Night of the Virgin
Paul Spurrier, The Forest
Matt Stuertz, Tonight She Comes
BEST SCREENWRITER
Sophia Caciola & Michael Epstein, Blood of the Tribades
Shaun Chau & Bert Havird, Reunion
Nic Costa & Rob Taylor, Neil Stryker and the Tyrant of Time
Mike Ladue & Bruce Wemple, The Tomorrow Paradox
James Morrison, Diverge
Chad Ridgely & A.J. Via, Massacre on Aisle 12
Matt Stuertz, Tonight She Comes
Michael Testone, Two for One
BEST SPECIAL MAKE-UP EFFECTS
Bed of the Dead
Creatures of Whitechapel
Dances with Werewolves
Let Her Out
The Night of the Virgin
Squatters
Tonight She Comes
BEST VISUAL EFFECTS
Avant
Neil Stryker and the Tyrant of Time
Reality Check
Shortwave
BEST ACTOR
Jon Abrahams,   Two for One
Javier Bodalo, The Night of the Virgin
Michael Buonomo, Massacre on Aisle 12
Jim Klock, Massacre on Aisle 12
Ryan Munzert, The Tomorrow Paradox
Ivan Sandomire, Diverge
Rob Taylor, Neil Stryker and the Tyrant of Time
John T. Woods, Dead Bullet
BEST ACTRESS
Jenna McDonald, Tonight She Comes
Maria Olsen, Reunion
Dal Nicole, Tonight She Comes
Ruth Reynolds, Reunion
Melissa Saint-Amand, Massacre on Aisle 12
Mickey Sumner, Two for One
Larissa White, Tonight She Comes
Boo Williamson, All the Wrong Friends
BEST WESTERN NEW YORK ACTOR
Jake Albarela, Game Changers
Brian Bernys, Game Changers
Jon Cesar, Beyond the Sea
Bill Kennedy, Attack of the Killer Shrews
Tom Malloy, #Screamers
Richard Satterwhite, Edge
BEST WESTERN NEW YORK ACTRESS
Andrea Andolina, Game Changers
Elizabeth Houlihan, Attack of the Killer Shrews
Laura J. Morlock, Squatters
Mary Marciniak, Renae
Sara Marioles, Game Changers
Cheryl Szymczak, Attack of the Killer Shrews
BEST WEB SERIES
Another Day with You
Faux Show
Made in Misojen
Mindflip
Miss Beverly Hills
BEST MUSIC VIDEO
The Last Hate Song
Lilac Cornona
Sidereal Hearts
YOUNG STUDENT FILMMAKER
Talia Cohen-Vigder, Holiday of Holidays
Elsie Logan, Choices Determine Your Life
Sly Sundown, Sleepover
LOCAL HERO
Chris Cosgrave
LOCAL SERVICE AWARD
Pat Swinney Kaufman
BEST ANIMATED FILM
Circuit Sizzle (WNY)
Libertaria (WNY)
Mayur (Singapore)
Time Chicken
BEST MICRO-SHORT FILM
Dogged ( UK)
Barrio Dos: Pintados (Philippines)
Laserpope (Germany)
Playback
Peter-Peter                 
BEST WESTERN NEW YORK MICRO-SHORT FILM
Bug Love
Circuit Sizzle
The Undersanta
BEST STUDENT FILM
Creatures of Whitechapel
The Porter Brothers
Wolves
BEST WESTERN NEW YORK STUDENT FILM
16 Days
Beyond the Sea
Rose Colored
That's My Baby                 
BEST WESTERN NEW YORK DIRECTOR
Rob Imbs, Game Changers
Ken Cosentino, Attack of the Killer Shrews
Gabriel Simon & Alaa "Zak" Nowheihed, Edge
James Coleman, Vince Coleman, Michael Del Rossa, Squatters
Nathan Mancini, Pastime
 BEST ORIGINAL SCREENPLAY
"The Apocalypse Chronicles" by Nathan Ludwig & Charles Devin Hill
"Escape from Sean Astin vs. Gator Croc" by Tim Pyle
"Love Potion #666" by Nathan Ludwig and Chad Farmer
"The Red Triangle" by Tim Auld
"Wolf Dreams" by Tyler Peck
"…a love letter to offbeat lesbian vampire films that offers powerful discourse on self-identity, feminism, and the violence wrought from religious dogma. Immersive, elegantly photographed, and guided by a terrific original score by Night Kisses, Blood of the Tribades urges vampire tradition forward in challenging new directions." – Chris Hallock, Boston Underground Film Festival
"…refreshingly uncommon…featuring a unique, fully realized world unto its own—a world populated by vampires that roam forests and ruins…one with its own hierarchy and class system in place. Besides the immersive mythology of the piece, the impressive array of locales—many absolutely gorgeous—on display in this film is astounding…" – Daniel XIII, Famous Monsters of Filmland
"…a considerable achievement visually, with meticulously considered shot compositions and a lush colour palette that enhances and foregrounds the colours of the natural world. Pink skies reflect in slivers of water and nature's various shades of green seem to pulsate from the screen"
"…acts as an attack on those who bend religion to their own ends, and serves to highlight the detriment (to both men and women) brought about by patriarchy and male privilege." – Kevan Farrow, Scream
Buffalo Dreams Fantastic Film Festival Official Selections:
Features Filmed in Western New York
Two For One (Drama, Special Advance Screenings)
Shortwave (Science Fiction, Western New York Premiere)
Game Changers (Drama)
Attack of the Killer Shrews (Comedy, Film Festival Premiere, hosted by Lloyd Kaufman)
House on Ghost Hill Road (Horror, Film Festival Premiere)
The Outlaw 666: The Beast (World Premiere)
Libertaria: The Virtual Opera (Animated)
Horror Features
Street Trash 30th Anniversary Screening hosted by Roy Frumkes
Tonight She Comes (World Premiere)
Dances with Werewolves (World Premiere)
Let Her Out (New York Premiere)
Bed of the Dead (New York Premiere)
Blood of the Tribades (New York Premiere)
The Dark Tapes
Secret Santa (New York Premiere)
#Screamers
Thriller Features
Dead Bullet (New York Premiere)
Reunion (World Premiere)
All the Wrong Friends (New York Premiere)
Science Fiction Features
The Tomorrow Paradox (World Premiere)
Diverge (Western New York Premiere)
Comedy Features
Massacre on Aisle 12 (Horror Comedy, World Premiere)
Neil Stryker and the Tyrant of Time (Sci-Fi Comedy, New York Premiere)
Midnight Delight (Comedy)
Faux Paws (Comedy, Western New York Premiere)
They Want Dick Dickster (Comedy directed by Chris Ray, New York Premiere)
Documentary Features
Finish Line: The Rise and Demise of Off Track Betting (Western New York Premiere)
6 Guys, 6,000 Miles (Film Festival Premiere)
Burt's Bikers (World Premiere of restored and re-edited version of Roy Frumkes' 1969 NBC docudrama about developmentally challenged children)
International Films
The Night of the Virgin (La Noche del Virgen, Horror, Spain, New York Premiere)
The Forest (Thailand, Supernatural Drama, New York Premiere)
Seizure (UK, Horror, World Premiere)
Short Features
Squatters (Western New York, Horror)
Together We Stand: A Story About the 1958 University of Buffalo Football Team (Western New York, Documentary)
Sienna's Choice (Drama)
Condemned With You All (Western New York, Horror)
Western New York Short Films
The Undersanta – Pasqualotto (8 mins)
16 Days – Local Submarine short (15 mins)
That's My Baby (student w/Bill Brown, 9 mins)
Ranae (12 mins)
Pastime (24 mins)
Rose Colored (14 mins)
Beyond the Sea (20 mins)
Let the Wrong One In (18 mins)
Arach-NOPE-phobia
Bug Love
Mindflip (web series)
Shamblin's Shack
Edge – Local (12 mins)
Circuit Sizzle – Local Animation (3 mins)
Bug Love (7 mins)
North American Short Films
The Backpage (30 mins)
Glimpse (10 mins)
The Outage (20 mins)
Pluto (8 mins)
Caucemar Capitonne (9 mins)
Burnt Popcorn (9 mins)
Inferno (13 mins)
Alchemy (14 mins)
Little Dougie (15 mins)
Peter-Peter
The Box
Another Day with You (web series)
Faux Show (web series)
RIP Missy Palmer (web series)
The Smiling Man (7 mins)
Goblin Queen (12 mins)
A Night at the Movies (16 mins)
Kookie (9 mins)
Infirmity (14 mins)
The Fisherman's Wife (10 mins)
Burnt Popcorn (9 mins)
Sparks (8 mins)
Duffy's Jacket (10 mins)
Sudden Reality (17 mins)
Do You See What I See? (14 mins)
Reality Check (19 mins)
A Western (15 mins)
Shoot in Any Direction and You'll Hit a Bastard
Time Chicken – Animation
O Christmas Tree
International Short Films
Wolves – Spain (12 mins)
Creatures of Whitechapel – UK (25 mins)
The Frozen Eye – Belgium (29 mins)
Pyramids Hostel – France (19 mins)
Made in Misojen – Norway (web series)
Playback – UK (4 mins)
Dogged – UK (4 mins)
Barrio Dos: Pintados – Philippines (4 mins)
Avant – France (13 mins)
Laserpope – Germany
The Porter Brothers – France (33 mins)
Bloodhunters – Philippines (15 mins)
Crying Wolf – UK (19 mins)
Time Chicken – Czech Republic
Yo So Pedro – France
Sputnik – Spain – Children's (23 mins)
Music Videos
Mayur (Singapore, animated music video)
The Last Hate Song (music video)
Lilac Corona (music video)
Sidereal Hearts (music video)
Young Student Films (filmmakers under 17)
Holiday of Holidays (USA)
Sleepover (Western New York)
Choices Determine Your Life (Western New York)
A Friend Indeed (Canada)