2016 was a year of big changes for us!
The biggest being that we left our many-year home Boston for Los Angeles. You can read about why we chose to move here.
We headed out in the Summer and went on a cross-country adventure. We took what we could fit in our van, visited family, Gen Con, and saw the Southwest for the first time!
We have also maybe stalked Jeff Goldblum a little since coming here!

Besides getting photos with JG, here's what we worked on all year…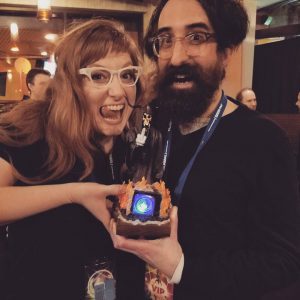 Blood of the Tribades had a great year.
We screened at many awesome festivals, won a bunch of awards, got a number of great reviews that really understood what we were trying to do with the film, and we even just got released on VOD.
The film will also be released on Blu-Ray and other physical media soon!
The release hasn't been without hiccups. We got banned in Japan and placed under an archaic "mature" label on Amazon for insisting that male-nudity should be treated the same as female nudity. Amazon disagrees.
We also had the honor of having our special exclusive grindhouse extended trailer for the film included on the anthology, Grindsploitation 2.
We recorded a bunch of lipsyncs for Kickstarter backers!

Some of our festival visits…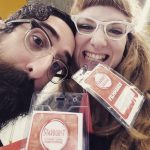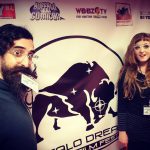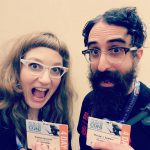 Magnetic was released on VOD and DVD this year! Here's how to watch!
Here's a great review from The Outre Eye of Daniel VIII, "…MAGNETIC is what low budget genre film making should be; unique, challenging, and over flowing with big ideas, money limitations be damned. For the same cost as your now bog-standard 80's slasher throwback, these folks have created an entire world unto its own, populated by bizarre characters, a near fetishistic infatuation with outdated technology, and rad concepts the likes of which you have never seen before…"
More reviews…
Short Films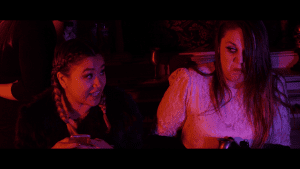 This was a short created by Sophia with Allix Mortis, star of Magnetic, for the Women in Film / Flicks4Chicks contest. It won two awards at the fest: Best Comedy (as chosen and presented by the Women in Comedy Festival) and Best Costumes! You can watch Weekend Vampire free for subscribers (or with ads otherwise) on Amazon Prime!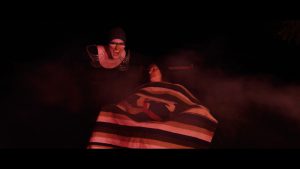 Thirteen is also available for free on Amazon Prime! Thirteen was commissioned by the Boston Museum of Fine Arts for a show about Friday the 13th. The film was written and directed by Sophia and starred Sophia and her mother. It explored dreams and the push and pull of dream forces trying to possess the dreamer's mind. It is very gothic and has a lot of skeleton keys.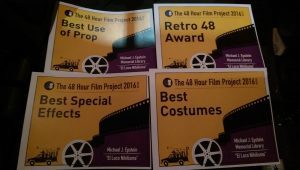 The Michael J. Epstein Memorial Library participated for our fifth (and presumably final time) in the Boston 48-Hr Film Project. This year we took on the meaning of life itself!
We won awards for Best Use of Prop, Best Costumes, Best Special Effects, and the Retro 48 Award (for using lines, character names, and props from all the previous Boston 48s we had done!) and Sophia was nominated for Best Actress for her very wise owl!
Anthology Shorts
We shot a number of films for anthologies, including: 60 Seconds to Die, 60 Seconds 2 Die, 2 Die For, and Conspiracy X.
Thanks to our friends at Without Your Head Horror, we got to go on the press day for Phantasm RaVager, and we got to interview Phantasm (one of our all-time favorite movies/franchises) cast and crew to discuss what the film series means and how it has evolved over the years.

Work on Other People's Films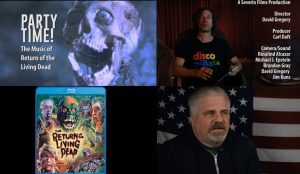 Sophia and Michael had the pleasure of interviewing John Sox (of The F.U.'s and Straw Dogs) last year for The Return of the Living Dead collector's edition Blu-ray bonus featurette Party Time! The Music of Return of the Living Dead.
The Straw Dogs song "Young, Fast Iranians" appears in the film as the radio track at the introduction of the gang of punks, a pretty iconic moment in the film.
Michael had the pleasure of appearing in Friday Night Films' Idiom Origins Volume One!
Princess Rap Battle – we got to be PAs on the set of the Anna vs. Rapunzel PRB starring Eliza Dushku!
Witchworks Films asked us to run for Overlords of Earth!
We shot a little tiny bit of b-roll for Traceroute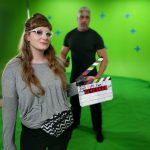 Sophia had some fun taking on camera work as a main interest and has already worked on a few features since moving to LA!
First, she went off to the mountain town of Idyllwild, CA for two weeks to be a camera operator on a haunted house/satanic possession film called, Wiles.
She also went off to Roswell, NM for three weeks to be assistant camera on an alien film called, Astro!
Photo: Sophia with stuntman, Dave Reaves on the set of Astro. Photo by Felix Sauermann
Sophia's voice also can be heard as part of In the Dark!
Michael also worked on a 15-s horror short.
Filming has continued for the Women of Rock Oral History Project that Sophia has been helping out with Tanya Pearson.
This year, we interviewed Gail Ann Dorsey (David Bowie, Lenny Kravitz), Patty Schemel (Hole), Allison Wolfe (Bratmobile), Phranc, Alice de Buhr (Fanny), Kira Roessler (Black Flag), Kat Arthur (Legal Weapon), Mish Barber-Way (White Flag), Michelle Gonzales (Spitboy). Sophia also cut together teasers from some of our previous interviews, Lydia Lunch, Alice Bag, JD Samson.
Music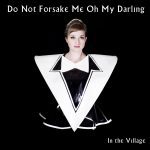 DNFMOMD released three new songs this year – two more in our project to write songs for each episode of The Prisoner and a cover of "Working for the Weekend."
This music went much more into the electro territory than our previous work.
Vanyaland wrote, "And as a parting gift, they've delivered maybe the best bit of music in either's career here. The three-song In The Village EP is a departure from the pound-n-ground doom rock Do Not Forsake Me are known for; and instead opts for a darker, more hypnotic and mechanical brand of minimalized electronic-pop that's seductive, smoky and full of loud empty spaces. There's also a grinding cover of Loverboy's '80s hit "Working For The Weekend," a grim, menacing rendition that borders on the industrial and feels like a Gary Numan and Nivek Ogre hybrid delivering downtempo brilliance in the verses. It's also missing its famed chorus, and that's by design."
We also played a bittersweet final Boston show at the Middle East Downstairs. Coming up in 2017 we've been invited to be guests at PrisonerCon in Seattle in September- it's a whole weekend celebrating the 50th Anniversary of The Prisoner! We'll play multiple shows and be on hand all weekend.

Sophia (on bass) joined Catherine Capozzi and Tamora Gooding in a temporary grindhouse garageband for the apocalyptic burlesque musical the Spider Cult! Here's the soundtrack!

MJEML were part of the final year of The Encyclopedia Show Somerville (here's a write-up of the show), someday we'll finish and release all of the crazy songs we wrote for that show!
Amylee appeared in the background of Player Style Files on CBS!
Back in 2011, the Library was part of a documentary made by Berklee Pulse that followed several bands through the process of making a song, from nothing to jamming to the studio to playing it live! It's a super interesting inside peek into the process, and it was finally just released!
https://www.youtube.com/watch?v=sTMsjZayCAA
Writing
Michael adapted the opening of a screenplay for the short story, "The Unnaturals," published in the Dystopian Express anthology!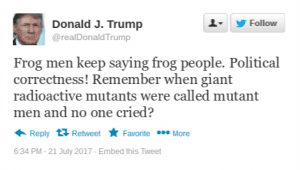 Michael also contributed to the flash fiction collection Trumpocalypse with a story about "The Frog Soldiers!"

Michael wrote a book on crowdfunding for the In 30 Minutes series!
Crowdfunding sites such as Kickstarter, Indiegogo, and GoFundMe can not only help you raise money to fund your idea or cause, they can also help you establish a community of enthusiastic supporters. This crowdfunding book will show you how. Preorder it now for delivery on March 13!

Michael started the Filmmaking Fool to help people get started with filmmaking…
PLOS ONE published the findings (full text available, open access) Additional Press: Wall Street Journal, Scientific American, ABC Action News, ASHA, Medical Daily, Science Daily, Neuroscience News, Pubniche, EurekAlert, Agein, Psypost, Ooyuz, Audiology World News, The Herald (UK), Express (UK), Hearing Like Me, The Doctor Will See You Now, Third
Podcasts / Interviews
Past reviews