Weekend Vampire is now available to watch for free on Amazon Prime! If you don't have a prime membership, you can still watch it for free with ads!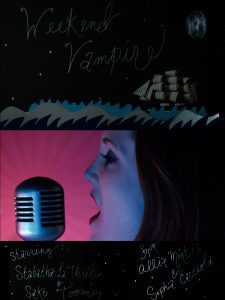 Weekend Vampire was created by Sophia and Allix Mortis (who you may remember as the star of Magnetic!) for a Women in Film/Harvard Scriptwriters Club competition called Flicks4Chicks. We won two awards at the fest: Best Comedy (as chosen and presented by the Women in Comedy Festival) and Best Costumes!
The film follows a night-in-the-life of an ancient vampire (Stabatha la Thrills) who wakes up in an attic in 2016 and goes party-hopping with a chatty millennial (Sake Toomey).
Additional Fests
Dispatches from the Underground at BUFF
NECAT Film Festival – Oct 23, 2020
Full credits:
Directed, Written, & Produced by Allix Mortis & Sophia Cacciola
Cinematography by Sophia Cacciola
Editing, Sound, Gaffing, & Handheld Camera Operator: Michael J. Epstein
Production Assistant: Zach of the Dead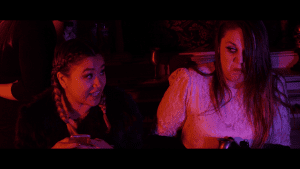 Starring:
Stabatha la Thrills as Agneska Karnstein
Sake Toomey as Valeria Orlock
and: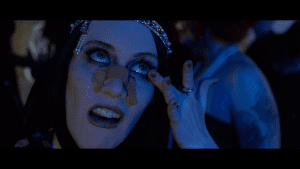 Zach of the Dead as art intern
Allix Mortis as Lisa & attic voice
Sophia Cacciola as Grüber driver
Ants Conley as Goth band singer
Michael J. Epstein as Goth band drummer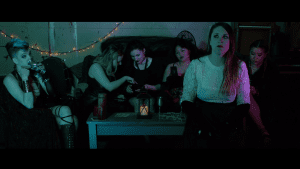 Goth Partiers:
Johnny Blazes, Porcelain Dalya, Kevin F. Harrington, Yummy Hearts, Peter Mercury, Alexa D. Murray, Little Musket, Sable, Dahlia Strack, Bleu Velvet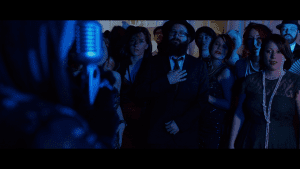 Speakeasy Partiers:
Evan Avery, Alice Azu, Johnny Blazes, Ants Conley, Kyle Coston, Chloé Cunha, Porcelain Dalya, Nash DeVille, Alison Duda, Dean ten Eicken, Katrina Galore, Melinda Green, Brendan Higgins, Viva Luscious, Alison Martins, Kristy McGarr, Erica Stockwell-Alpert, Dahlia Strack, Ari Taylor, Jeff Taylor
Songs:
"Vampires in Love" by STEMS
Written by Ants Conley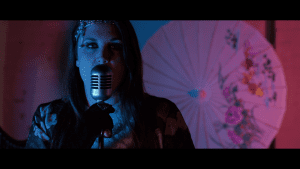 "We Will Live Forever" by Night Kisses
Written by Sophia Cacciola
Locations:
Secret Location, Somerville MA; Location Manager: Sean Bradley
Magnolia Loft, Jamaica Plain, MA; Location Manager: Audrey Harrer
Location paintings by: Elizabeth Slayton
Speakeasy Wardrobe Assistance: Cait Quinn, Porcelain Dalya