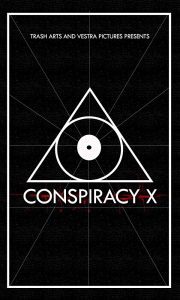 Conspiracy X is an anthology with documentary style footage and short horror films based on Global conspiracy theories.
Produced By
Sam Mason Bell
Tony Newton
https://www.facebook.com/ConspiracyXUk/
https://www.imdb.com/title/tt5831668
Troma Now proudly presents A documentarian is asked to meet a whistleblower leaking the truth of some of the worlds most dangerous conspiracies, but is everything how it seems? From the Illuminati to satanic subliminal messaging, the whistleblowers open up there world, or does he? From Trash Arts and Vestra Pictures.
https://www.horrorscreamsvideovault.co.uk/2018/11/film-review-conspiracy-x-2018.html