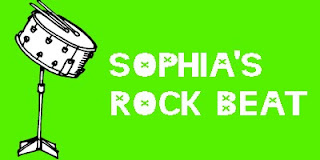 The situation is that Michael and I go out A LOT to see our fellow local rockers, well, rock out. And, because we're awkward and we need to be doing SOMETHING with our hands while being rocked we take a lot of video of these bands. Last year (2010) we saw 139 individual local Boston bands (many of them multiple times) and have video of most of them. (Here's a blog post with all of it). This first month of 2011 I've seen 30! So, my new effort is every Monday I'll give a little recap of all the shows I saw the week before with a tiny bit about what I'm looking forward to for the current week. Since I just thought of this (and had to make that awesome logo!) I'm going to start by giving a quick recap of everything I saw in January.
Links will go to youtube videos I/or Michael took. Many of the links are playlists of several videos.
The first show I saw this year was decided upon a bit spontaneously so I didn't actually have my camera with me, but let the record show that the first two bands I saw this year were Naked on Roller Skates and Muy Cansado at The Rosebud (1/7/11). The next day I planned better and did bring the camera to Axemunkee and Tony Savarino at Atwoods for an amazing night of instrumental, guitar-centric rock.The next show of they year was one I was very much looking forward to but the flu got in the way of me doing much besides laying on the couch and repeatedly asking Michael if I was dying. I allowed him out to catch the show and he got to enjoy Low Static Romance, Parlour Bells, Sarah RabDAU and Self-Employed Assassins (second Sarah video), and St. Helena. I'm including this on my list to showcase the videos AND because I was there in spirit.
Next up, (my band) Do Not Forsake Me Oh My Darling was added to a last minute show at the Brighton Music Hall on 01/21 and we got to play with Gene Dante and the Future Starlets (sorry no video of Gene & Co. at this show, but we're catching them again in February!) and Dirty Bombs (a newer band featuring the rhythm section from Televandals and a member of The Luxury). The next night we were at TT's for the first part of the evening to see Ed's Redeeming Qualities (a Boston twee-esque band that did pretty well nationally in the '90s) – they played with Bob and Guy, Jeffrey Gagnon, Thief in the Night (featuring Kurt Konk from The Konks), and The Buckets.

Then we hopped, skipped, and jumped over to The Middle East Downstairs for Soozapalooza (link to Sooz/Exploit Boston) for Kristen Ford Band, The Lights Out, Mistle Thrush, The Candles, and the Soozapalooza Supergroup (a rag-tag group of some of Boston's best musicians doing songs picked out by the hostess). We didn't tape any of these bands for ourselves at this show as we were actually helping to man Sooz's cameras – watch her site for those videos being released. The highlight of that evening was seeing the Mistle Thrush reunion. The guitar player, Master Scott P. is a friend of mine (as well as the awesome guitar player of Gene Dante & The Future Starlets) but I met him after Mistle Thrush were pretty much over, so I never got to see them back when. They were really, really awesome and I hope they end up playing some more together!
On 1/27 we headed over to the new side-stage at TT's for the launch of a new music series being put on by Louder Now Boston – a new partnership between Glenn DiBenedetto (Killer Suit Pictures) and Anngelle Wood of Boston Emissions. The music series is intended to highlight newer acts. We caught Brittany Gray (2), M.G. Lederman (2) (very Tom Waits/Shane McGowan-esque), Hello Ninja (2) (3) -who I've been meaning to catch for a long time – I really liked their punked out new-wave sound, and Ashpark (2).
Friday (1/28) we were back at TT's for Ryan's Smashing Life 4th Anniversary Show. Check out Ryan's very smashing blog! Boston bands The Cinnamon Fuzz and RIBS (2) (3) rocked the room, as they both usually do. Also, Blake of RIBS had great two-face (hipster-grunge) pants.
Saturday, we had a major fail situation. We were shut out at the door (we were lame and didn't buy our tickets in advance) from the Lizard Lounge for the One Happy Island CD Release, This Blue Heaven Video Release, Aloud homecoming show, and Oranjuly. This Blue Heaven's video is for their gorgeous song, "Slow Dance Slow" – It has many, many friendly faces. Watch it:
Then, we just couldn't bear to trek to Allston and we missed The Konks farewell show. The Konks were the first Boston band I discovered (since moving here) that I really, truly loved. Very sad they've called it a day. Here is some video I took of them at The Middle East Downstairs back in 2008:

That is it for now! Next Monday I'll have video links for the show I saw last night at Great Scott – Mr. Sister, Bunny's A Swine, and Banditas. On my radar for this coming week is Sarah RabDAU and Self-Employed Assassins with Wakey Wakey at Brighton Music Hall on Saturday – 2/5 and the epic snowpocalypse we're about to get!
If you want to get in touch with me for whatever reason, my email is: sophia@donotforsake.com