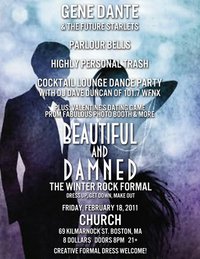 In response to the loss of Mustachey…
I am really sad to report that Sophia won't go with me to the Winter Formal. She is now looking for a new mustached man to take. I was really excited about it and even had a special blue tux. Now I am going to leave late tonight to go to Switzerland to undergo some special hair-growth treatments to try to win her back…wish me luck!
Some video of my tux below…
Sophia said: Friday, Feb. 18th is the Winter Rock Formal at Church. The idea is that we dress up, dance, enjoy some rock and drink fancy cocktails. Music provided by bands I see again and again because I can't stay away! Gene Dante & The Future Starlets, Parlour Bells, Highly Personal Trash, and Dance Party DJed by Dave Duncan of Boston Accents on WFNX. Plus rumors of a Dating Game AND some MJEML librarians will be manning a Prom-Fabulous Photo Booth. Wild!