Girls in the Garage Boston Festival Three days of female fury!
Three glorious nights celebrating the women of Boston Rock 'n' Roll!
June 18, 19 and 20 at The Lizard Lounge Cambridge – Facebook event
Ticket LINKS:
June 18: www.brownpapertickets.com/event/1635407
June 19: www.brownpapertickets.com/event/1635427
June 20: www.brownpapertickets.com/event/1635519
Bundle Link: www.brownpapertickets.com/event/1635399
Prices: $12 advance, $15 DOS, $30 for all three nights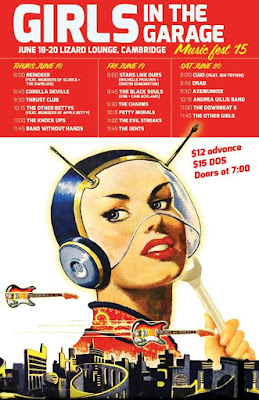 June 18
8:00 Reindeer (feat. members of Scarce and The Swirlies)
8:45 Corolla Deville
9:30 Thrust Club
10:15 The Other Bettys (feat. members of Apple Betty)
11:00 The Knock Ups
11:45 Band Without Hands
June 19
8:00 Stars Like Ours (feat. Michelle Paulhus and Kristen Edmonston)
8:45 The Black Souls
9:30 The Charms
10:15 Petty Morals
11:00 The Evil Streaks
11:45 The Dents
June 20
8:00 Cujo (feat. Jen Trynin)
8:45 Drab
9:30 Axemunkee
10:15 Andrea Gillis Band
11:00 The Downbeat 5
11:45 The Other Girls
Saturday, drab has some new songs and Sophia will be singing some Bring Us Your Women songs with Axemunkee!!!
We're also celebrating the second installment of Keep Safe Boston!
Keep Safe Boston 2015 digital compilation for Respond Inc.- Working to End Domestic Violence. 55 songs from Boston and New England artists. Donate and download at http://keepsafeboston.bandcamp.com.