We're very pleased to introduce you to all of our Blood of the Tribades cast (film web site) over the next few weeks. The film is currently raising money for production on Kickstarter.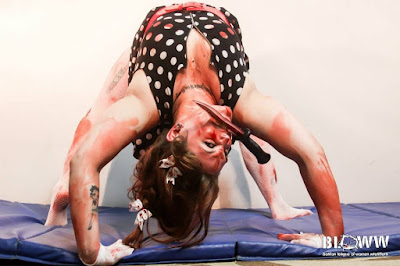 Stabatha La Thrills as Wendigo

About Stabatha: With a love for gore and a thirst for blood, Stabatha has been clawing her way around the Boston performance scene and bringing a new type of fear the people. Stabatha is a part of BLOWW (Boston League of Woman Wrestlers) where she gets to bring her love for horror by wrestling as a 1950s serial killer. A founding member of All The Rest Burlesque, a Boston based burlesque troupe that brings you ALL the rest. Stabatha has also dipped her paws into the music scene, a member of the Boston based band The Barbusters, and a former Shobijin at Daniel Ouellette and the Shobijin. Acting has always been Stabby's true love, playing roles in two feature films as well many other independent projects. She knew that being on film is where she belongs!
What excites me the most about BotT: VAMPIRES!!! Also, working with such a talented cast and crew!
What scares me the most: Goblin Sharks.
Favorite vampire: Ozzy Osbourne? He's sexy, creepy, and a bad ass! He hasn't come out to the public as a vampire yet, but, don't worry…he will!
Anything else you'd like to add: There's monsters all around you, my loves. 😉
Where can you find Stabatha: