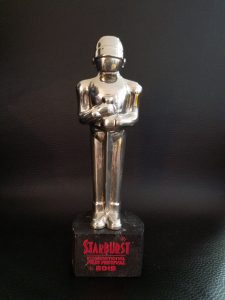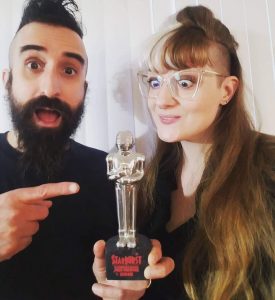 We're absolutely honored and blown away that we won Best Feature for Clickbait at the Starburst Magazine Starburst International Film Festival awards!
@clickbaitmovie LOOK AT THESE CUTIES! Congratz guys on winning best feature at #StarburstFilmFest STARBURST Fantasy Awards 2019 👏 pic.twitter.com/oGydji3k4O

— 👎 Schaunafreude 👻 (@shaunathegrinch) March 18, 2019
This past weekend saw the 2019 edition of the STARBURST International Film Festival take place at MediaCityUK, and boy was it a weekend to remember. In amongst the madness feature films and shorts played across three rooms over the Friday and Saturday, with genre icons Lloyd Kaufman (and his good wife The Commish, of course!)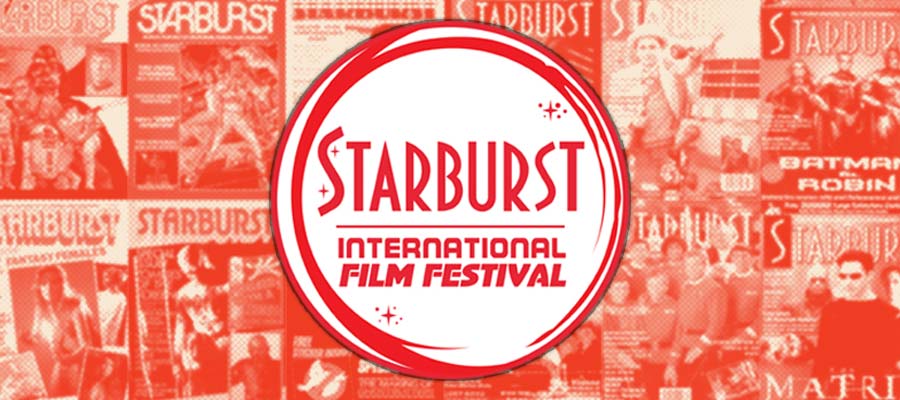 We're excited for Clickbait to be an official selection at the Starburst International Film Festival! SIFF has been a great supporter of our previous films and we're thrilled to return!

From the fest:
To celebrate our Guest of Honour Lloyd Kaufman we'll be showing the Troma classic The Toxic Avenger and his latest opus Return to Return to Nuke 'em High aka Volume 2, which has something to offend everyone but does so in riotous fashion.
Other new films to be screened include the UK Premiere of the brilliant horror satire on popularity culture Clickbait, directed by Sophia Cacciola and Michael J. Epstein, and the English Premiere of Lawrie Brewster's new cinematic nightmare Automata. We also have the UK Premiere of The Fare, a fabulous romantic time loop film from director D.C. Hamilton. Find out more about a controversial part of Chinese entertainment is examined in Category III: The Untold Story of Hong Kong Cinema, directed by Calum Waddell and featuring insights from many of the directors and actors from the scene.
There's also a chance to see the brilliant Polterheist, directed by David Gilbank, a mix of comedy, gangsters, and ghosts that will bring the house down.
We're also delighted to be screening two short films from director Izzy Lee - My Monster and For a Good Time, Call...
We'll be announcing more movies and the short film programme soon, so keep your eyes open!
The STARBURST International Film Festival takes place at Social 7 at The Landing at MediaCityUK, Salford, Manchester on March 15th and 16th.
Head over to www.starburstfilmfest.co.uk to find out more and book tickets now before they all go at https://www.skiddle.com/whats-on/Salford/The-Landing/STARBURST-International-Film-Festival/13411270/.
Friday March 15th
Main Room
17:30 - Retro film TBC
19:00 - Opening Ceremony
19:30 - Return to Return to Nuke 'Em High AKA Vol 2
21:00 - Lloyd Kaufman Q&A
Room 2
17:30 - Retro film TBC
19:30 - Scopophilia
21:30 - X
Room 3 (the Cinema Room)
18:00 - 42 Counts / For a Good Time, Call… / Indweller
19:45 - Terminal
20:15 - SuperGrid
21:45 - Next of Kin
Saturday March 16th
Main Room
10:00 - Retro film TBC
12:00 - The Little Wizards of Oz (with Luigi Cozzi intro)
14:00 - Starcrash (+ Luigi Cozzi Q&A)
16:45 - The Toxic Avenger (with Lloyd Kaufman intro)
18:45 - Filmmakers Panel (participants TBC)
21:00 - The STARBURST Fantasy Awards
Room 2
10:00 - Shorts: Trap / Sylphvania Grove / Lost Steps / Paleonaunt / REMEMBRANCE
11:45 - Shorts: Demonologist for Hire / My Monster
12:15 - Retro film TBC
14:30 - The Fare
16:30 - Shorts: I am the Doorway / Laboratory Conditions
17:15 - Category III: The Untold Story of Hong Kong Exploitation Cinema
19:00 - Retro film TBC
Room 3 (the Cinema Room)
10:00 - Retro film TBC
12:15 - Shorts: Hope in a Box / Pleased to Eat You
12:30 - Polterheist (with intro from director David Gilbank)
14:15 - Shorts: Suck / Once Bitten
14:30 - Automata (with intro from director Lawrie Brewster)
16:15 - Short: Pulsar
16:30 - Short: Ends Meat
17:00 - Shorts: Revenant Relocation Officers / Parlour Tricks
17:30 - Clickbait
19:30 - Retro film TBC