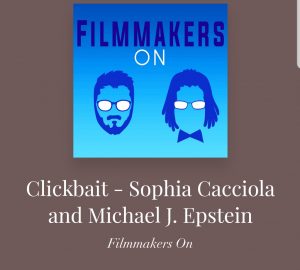 Check out this really nice, in-depth interview we did with Jason Horton for Filmmakers On. It's mostly about Clickbait, and Jason digs in deep! One of my favorite interviews we've ever done.
Filmmakers on is an entertainment podcast by media makers for media makers.
Michael J. Epstein is a Los Angeles director, actor, writer, musician, and producer known primarily for horror and sci-fi feature films layered with modern sociopolitical commentary, including the social-satire-horror Clickbait (2019), 70s-Euro-vampire Blood of the Tribades (2016), psychotronic-sci-fi Magnetic (2015), and the avant-mystery Ten(2014).