Sophia was interviewed for the new book, 1000 Women in Horror 1895-2018 by Alexandra Heller-Nicholas.  It is available in hardcover and paperback.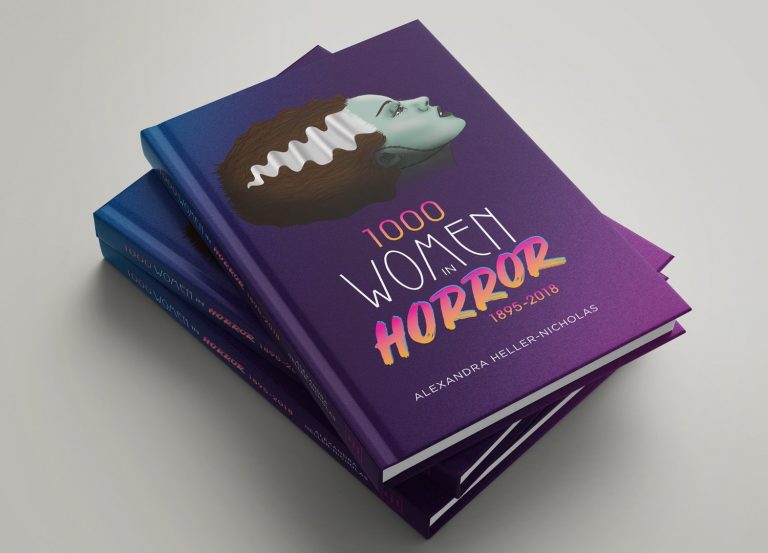 Blowing a kiss back through time and space from Aaliyah to Jill Rae Zurborg, 1000 Women in Horror, 1895-2018 is a love letter to both the stars and the often-invisible women who have made the genre what it is today. From Classical Hollywood to alt-Nollywood, mumblegore to J-horror, this book offers a tiny global snapshot of the vast number of women who have worked in the creation of dark and spooky movies for well over a century, both behind and in front of the camera, and in films both widely known and comparatively obscure.
Featuring a selected filmography of over 700 feature films directed or co-directed by women, this book also features interviews with Rutanya Alda, Tara Anaïse, Tonjia Atomic, Anna Biller, Axelle Carolyn, Aislinn Clarke, BJ Colangelo, Mattie Do, Julia Ducournau, Jordan Hall, Catherine Hardwicke, Katherine Kean, Karen Lam, Izzy Lee, Barbara Magnolfi, Marsha Mason, Donna McRae, Patrushkha Mierzwa, Hannah Neurotica, Alexandra Paul, Isabel Peppard, Cassandra 'Elvira' Peterson, Debbie Rochon, Mia'Kate Russell, Gigi Saul Guerrero, Elizabeth Shepherd, Jen and Sylvia Soska, Brinke Stevens, Barbie Wilde and Silvana Zancolò.
About the Author: Alexandra Heller-Nicholas is a film critic from Melbourne, Australia. She has written eight books on cult, horror and exploitation cinema with an emphasis on gender politics, including Rape-Revenge Films: A Critical Study (2011), books on Dario Argento's Suspiria (2015), Abel Ferrara's Ms. 45 (2017) and Robert Harmon's The Hitcher (2018), and the Bram Stoker Award nominated book Masks in Horror Cinema: Eyes Without Faces (2019). She is a member of the Alliance of Women Film Journalists and the Australian Film Critics Association. Alexandra holds a PhD in Screen Studies from the University of Melbourne and is an Adjunct Professor at Deakin University and a Research Fellow at RMIT University.
Interview with the author in Entertainment Weekly.
Author Alexandra Heller-Nicholas discusses her just-published encyclopedia. The history of the horror genre is routinely told via the careers of male directors such as James Whale, Alfred Hitchcock, George Romero, John Carpenter, and Wes Craven.