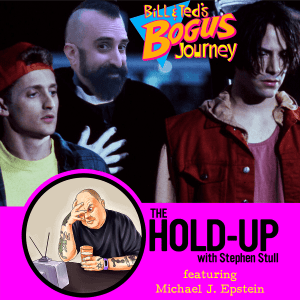 Had a great time on
The Hold-Up with Stephen Stull
. The premise of the podcast is that in this part 1, we talk about Bill and Ted's Bogus Journey, a movie I have not seen since going to the theater on a long day in 1991 and watching 4 movies: Bogus Journey, Bird on a Wire, Point Break, and Terminator 2. We return for part 2 after rewatching the movie to decide if it holds up! Because it's hard to shut me up, we also talk about all kinds of film things that Stephen describes as, "pretty heady and dark," so you won't want to miss out!
Musician/logician/filmician Michael J. Epstein and I prepare ourselves to rewatch Bill & Ted's Bogus Journey (1991), and the conversation quite naturally shifts to torture porn, the pyramids at Giza, and supposedly feminist rape-revenge movies. I mean, obviously, right?
Michael J. Epstein returns to finish our talk about Bill & Ted's Bogus Journey (1991), and we enjoy another marathon session of digressions and non sequiturs. Our verdict? It holds up!