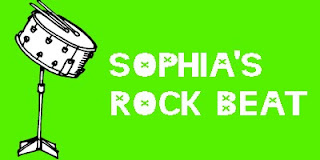 Sophia's Rock Beat is devoted to taking video of local bands and posting it. Read previous Rock Beats HERE.
It has been a busy couple of weeks since returning from Austin for SXSW. Our first stop was the BUFF (Boston Underground Film Festival) opening party on 3/24 where we caught Emperor Norton's Stationary Marching Band – video. 3/26/11 we went to the CD Release for The Grownup Noise. Caught 3 videos of Kingsley Flood – who were on fire after their recent tour – video 1, 2, 3. Playlist of The Grownup Noise's awesome set (even the moodlighting was well thought out – they placed lamps all around the stage)

3/30/11 we trekked over to the Brighton Music Hall for Parlour Bells and Garvy J. and the Secret Pockets of Hope and Resistance opening up for The Dears (Dears Video). Got lots of great Garvy J footage: video 1 and a video of my favorite song by them War is Over…Again.
Here are the sultry Parlour Bells doing their hit, Pet Names:

Friday, 4/1 we went to the Future Everybody/Brownboot dual CD Release at The Middle East Up. The always phenomenal Sarah RabDAU & Self-Employed Assassins opened the night –video 1, 2, 3. Air Traffic Controller played second (video).
It was The Future Everybody's big EP Release – their new songs as well as the 4 on the EP all sounded great. Here are four we caught on tape:

and we got three songs from BrownBoot also rocking a release this night – check out their hit "Spacepipe" and more: video 2, 3.
On Saturday MJEML played a benefit at Medford City Hall for the Medford Farmers Market and we caught sets by Susan Cattaneo (video) and Max Heinegg (video)