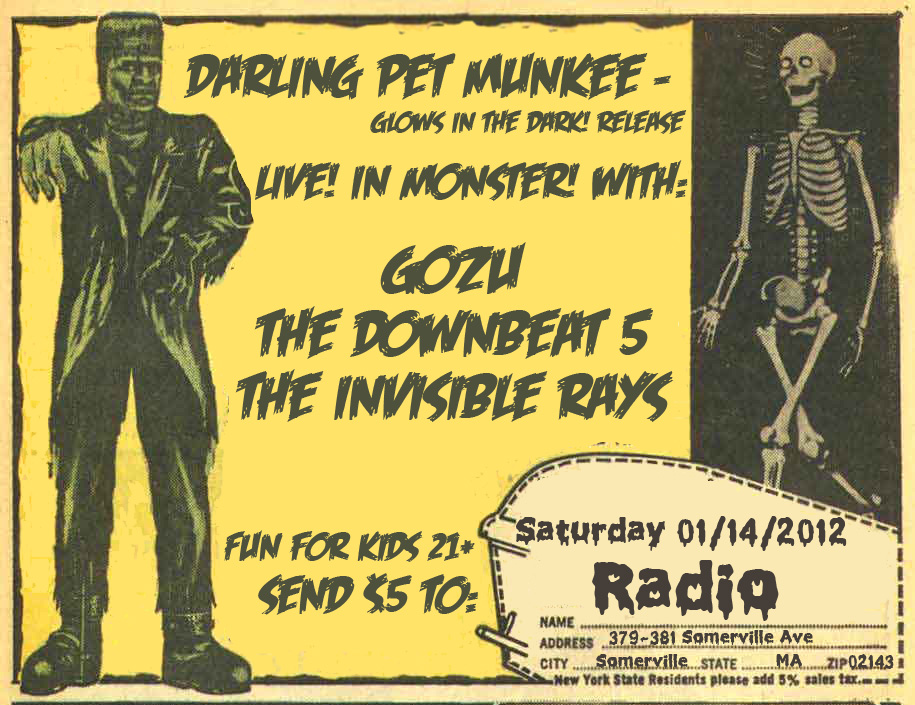 Darling Pet Munkee officially releases our debut album, _Glows in the Dark_ on 1/14/12 at Radio in Somerville! We are very excited to perform live in the venue that we shot our "X-Ray Specs" video!
We'll have guest burlesque and theater surprises to accompany our comic-book-inspired punk/surf/garage rock.
[Facebook Event]
Saturday, January 14, 2012
9 PM
Radio in Somerville
379-381 Somerville Ave
Somerville, MA 02143
Flyer: http://donotforsake.com/dpm/dpmjanuary2012flyer.jpg
Sea-Monkeys, X-Ray Specs, and a necklace full of soil from Dracula's castle are among the many bizarre items that were sold in comic-book ads of yore. Garage/surf rock supergroup Darling Pet Munkee aims to tell the tales of these lost items in song. For the next 6 months, the band will be releasing one song a month – with accompanying history – examining the bizarre knick-knacks sold via these misleading ads that promised fighting skills, wondrous creatures, and grand journeys. On January 14, 2012 at Radio, the full 7-song EP, _Glows in the Dark!_ will have been revealed.
The band name is derived from both the sale of living squirrel monkeys via ads ("Darling Pet Monkey") and the combination of Sophia Cacciola (drums, vocals) and Michael J. Epstein (bass, vocals) of The Prisoner-themed act, Do Not Forsake Me Oh My Darling, and Catherine Capozzi (guitars) of Axemunkee.
Gozu
Formed in 1999 by lead guitarist JJ Rassler (founding member of influential Boston bands DMZ and guitarist / producer for The Queers) and singer/rhythm guitarist Jen D'Angora, along with bassist Mike Yocco and drummer Eric Almquist, The Downbeat 5 draws on British invasion bands like the Yardbirds and Animals, spikes the brew with the toughest female vocals this side of a women's prison riot, and tops it all off with decades worth of aggression, attitude and volume. The band is often heard on Little Steven's Underground Garage and is featured on his "Coolest Songs in the World" compilation series. The DB5 have shared the stage with such acts as; Holly Golightly, Magic Christian, The Hoodoo Gurus, The Pretty Things, The Knitters, The Blasters, The Zombies, Flaming Stars, Preachers Kids, Muffs, Dick Dale, Detroit Cobras, Sylvain Sylvain, Jayne County and countless like minded bands. Their relentlessly tough live shows have sometimes been augmented with the guest appearance of friend and Animals guitarist, Hilton Valentine.
The Invisible Rays are a company of musicians dedicated to communicating complex and antediluvian emotions from cinematic, rhapsodic, and rhythmic music without the crutch of a singer. No language – just the intervals, spaces and rhythms invented by:
Ned Armsby – drums and samples
Brendan Haley – keyboards
Eric Krauter – bass
Rafi Sofer – guitar
Originally formed in 2001 by Sofer and Armsby, the I-Rays crossed musical paths with first Krauter and then Haley through Sofer's audio engineering work at Q Division Studios in Somerville, MA and convinced them to join forces to forge a new sonic landscape. Never ones to shy away from the science and technology of music, the four piece instrumental band creates new combinations and possibilities in sound. Manipulating and layering sonics using instruments and equipment that span decades of innovation in modern music technology, from Mellotrons to Roland Drum Machines and from Fender Deluxes to Symphonic Bass, no stone is left unturned in search of the perfect sound.