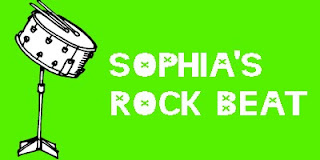 Sophia's Rock Beat (FB)! First! What is SRB? Sophia goes to local shows. Sophia video-records these shows. Then Sophia posts them on the internet. It's a thing. Seriously, if you want me at your show, let me know- sophia@donotforsake.com.
Okay, have to fly through these as I'm trying to catch up before the Rumble starts tonight (and so I can focus on posting those every day this week!). 3/16/12 was an amazing, theatrical night of awesomeness. The ESCHATON at Brighton Music Hall. It started out with the thunderous Black Thai (Black Thai video). Then Sidewalk Driver got up there and did the best thing I've ever seen anyone do on stage: Tad made a PB&J sandwich. Then didn't even eat it. Just handed it to some people in the front row. Amazingness. Sadly, I don't have footage of this, but Daykamp Music got a great photo.(Sidewalk Driver video 1, SD Video 2 – in this one Tad does a costume change in the middle). Planetoid then destroyed Earth with an involved story involving Mary Widow and some light-up hula dancers! (Planetoid video). Walter Sickert and the ARmy of BRoken TOys then finished us all off. (ARMY vid 1 – Off with her head). Video of the all-star ending on Ghostbusters, includes Planetoid and Mary Widow. And embed of Rachel Jayson (voila-player) who I had never seen take a microphone before busting out some fierce hardcore singing:
The next night 3/17 found us at the LilyPad for a special "acoustic-y" performance from Count Zero, celebrating the release of their fantastic, Michael Pope directed video for their song, My Mockingbird.
3/24 at Store 54 in Allston, New Frustrations busted out the old-school punk & roll: