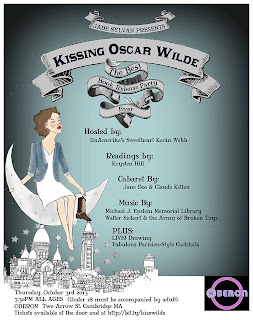 https://mjeml.michaeljepstein.com/ wrote a song about traveling to Paris to kiss Oscar Wilde? We're debuting it on October 3rd at Oberon? But why?!?!?!?
Jade Sylvan's Kissing Oscar Wilde book release party!
https://www.facebook.com/events/147511405445366/
Tickets: http://bit.ly/kisswilde
Why go to a book release party in a basement, when you can attend one in a giddily drunk underground nightclub? What about a nightclub with the glamour of prewar Paris – or what you imagine glamour was like in prewar Paris?
Author Jade Sylvan obliges with the fabulous launch of Kissing Oscar Wilde, their star-crossed memoir about identity, art, and romantic friendships.
(You can buy your copy of the book along with your ticket and save $2 off the cover price! Plus, Jade will sign it at the show!)
THE SHOW:
Music by: Walter Sickert and the Army of Broken Toys, https://mjeml.michaeljepstein.com/ and Katie Kat
Cabaret by: Jane Doe and Claude Kitten
Readings by: Krysten Hill
Hosted by: UnAmerika's Sweetheart Karin Webb
PLUS:
Fabulous Parisien-inspired cocktails!
Staged performances with AUDIENCE PARTICIPATION!
LIVE DRAWING by: Zombie Romance (another participant in the MJEML Art Exchange)!
"Louis stayed clothed on the bank with the two body-shy college girls. He told me later it was because he had jock-itch, not because he was not fun-loving and star-gazing." – Kissing Oscar Wilde, p. 18