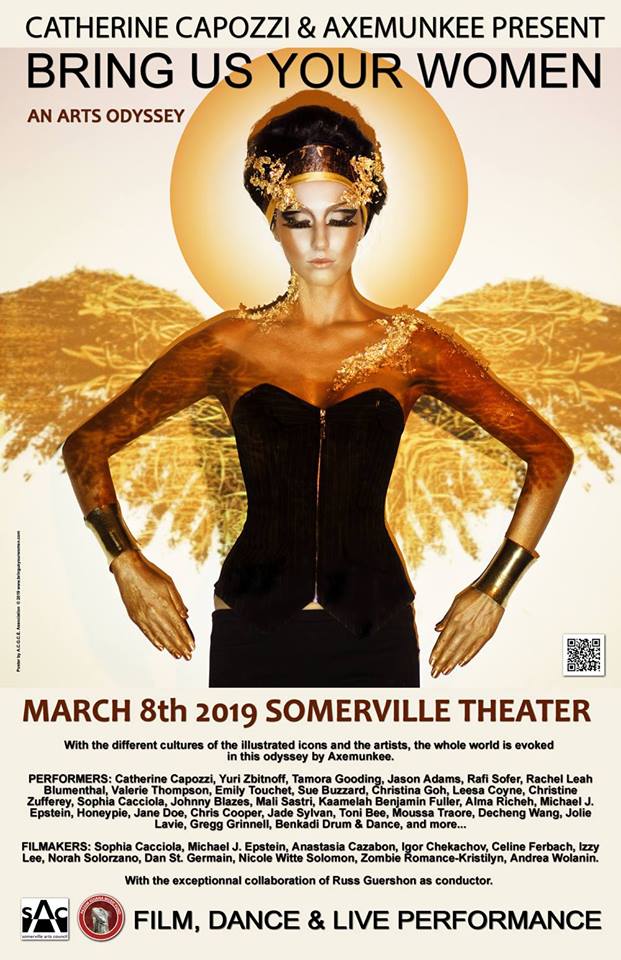 Sophia will be performing with Catherine Capozzi and Axemunkee and friends to celebrate icons Mary Magdalene, Sirens, and the world premiere performance of Medusa! (About the previous performances) We also helped produce all of the videos that will accompany performances. Michael previously wrote and performed "Eve" and that performance will now be taken over by Leesa.
Bring Us Your Women is an international collaborative film anthology, live multi media music, poetry and dance performance. Existing and reimagined stories of historic and mythical female ancient figures, each presenting a message of humanity that transcends gender and religion. Bring Us Your Women is a 2018 grant recipient from Iguana Music Fund Club Passim.
This program is supported in part by the Somerville Arts Council, a local agency supported by the Massachusetts Cultural Council.
Bring Us Your Women, film narrative, CD, multimedia performance dedicated to women and the pursuit of freedom and divinity
"Bring Us Your Women," a mixed-arts production celebrating International Women's Day, premiered its third installment at the Somerville Theatre on March 8.A blend of film, music, dance, visual art and poetry, the show explored a wide variety of historical, mythical and religious stories centered on women, from Joan of Arc to Mary Magdalene.Show producer and Boston-based guitarist-composer Catherine Capozzi was first inspired to make "Bring Us Your Women" while