Music video produced by Launch Over / Directed by & Starring Sophia Cacciola / Shot & Edited by Michael J. Epstein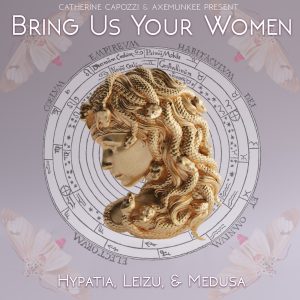 Bring Us Your Women is the brain child of Catherine Capozzi and seeks to celebrate, reimagine and recontextualize women and icons from the ages. Sophia collaborated with Capozzi and her band, Axemunkee on the song Medusa.
Hypatia, Leizu, and Medusa is a new 3 song EP, released on 2021's International Women's Day dedicated to:
Hypatia (philosopher, astronomer, and mathematician from Alexandria, Egypt), Leizu (invented the silk reel, China) and Medusa (Greek mythology best known for her hair of snakes and turning anyone she looked at into stone).
Produced by Rafi Sofer and Catherine Capozzi
Recorded by Joel Edinberg and Rafi Sofer at Q Division (Somerville, MA)
Mixed and Mastered by Rafi Sofer
​EP Artwork by Sophia Cacciola
Axemunkee is:
Catherine Capozzi (guitars,ebow, mandolin)
Tamora Gooding (electronic drums)
Yuri Zbitnoff (acoustic drums)
Jason Adams (bass)
Hypatia featuring Christina Goh (vocals), Gotham (djembe)
Leizu featuring Christina Goh (vocals), Decheng Wang (Erhu), Colin Lester Fleming (drums), Theo Brierley (upright bass)
Medusa featuring Sophia Cacciola (vocals, lyrics)
Catherine Capozzi discusses 2021 EP release: