Please also join our mailing list.
Hear some music.
We have reached our goal and pre-sales are now sold out. In fact, the whole show is now sold out. We expect that there might be a few tickets that become available as we finish distributing reserved tickets. E-mail me to get on the wait list to purchase one of those tickets.
Updated notes for all those asking:
1. pre-sale for people who can't make our CD release show is now over at: http://blog.michaeljepstein.com/2011/01/michael-j-epstein-memorial-library-cd.html.
2. E-mail me if you want to pre-buy, but don't have Paypal or a credit card.


(PURCHASE LINK REMOVED – SHOW IS SOLD OUT!!!)


Short version: click buy now below to get a deeply discounted $15 CD release ticket / CD combo ($25 value). This will really help us cover final costs for our CD prep and duplication.
Long version: The Michael J. Epstein Memorial Library will be opening its doors and locally (that is, in the Boston area) releasing a debut full-length CD (10 action-packed songs including one top-secret cover – recording session hint video here!) on 2/26 at The Middle East Downstairs. (National release date still pending.) This is going to be a killer show (Facebook Event) with McAlister Drive, Endway, and Ryan Schmidt. I'll post a lot more about these guys as the date approaches, but for now, I just want to tell you about a really special, limited-time offer that we are making.
We are so excited about this recording that we are offering a ludicrous discount if you buy a ticket/CD combo in advance. For $15 (with no additional fees), you will receive a ticket and a voucher in the mail allowing you to attend the CD release show and receive one copy of our CD. The show tickets alone are $12 (plus fees if you buy online) in advance or $15 at the door.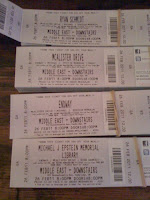 So, if you are one of the first 150 people to buy before Feb. 1st, you will receive the ticket (a $12/$15 value) plus a CD (a $10 value) for $15! But wait, that's not all, you also get a free snuggie. (Just kidding, but I've been working so hard to write this whole message as an infomercial that I couldn't resist hopping over the edge of the cliff.) But seriously, you will also receive a special limited edition gift made by the band for only those who pre-buy this package. That's not enough? You will also also also get access to a digital copy of the album before anyone else gets to hear it! Best of all, you'll be helping us cover the final costs of finishing this recording and duplicating it.