The complete combined story has been presented in a single post here.
I decided to pay a visit to Amazon.com today to see how things were rolling with The Michael J. Epstein Memorial Library's material. When I arrived, I found that if I put the UPC for our album Volume One into the search, I was rewarded with a page for the vinyl version of Michael J. Memorial Epstein's Vol. 1. I decided to immediately file a correction. As it stands, Volume One (not Vol. 1, but that's fairly close) is not available on vinyl…though it's also not by an artist called Michael J. Memorial Epstein. Soon after, they actually corrected the artist name, but the other issues remained long enough to grab this screen cap: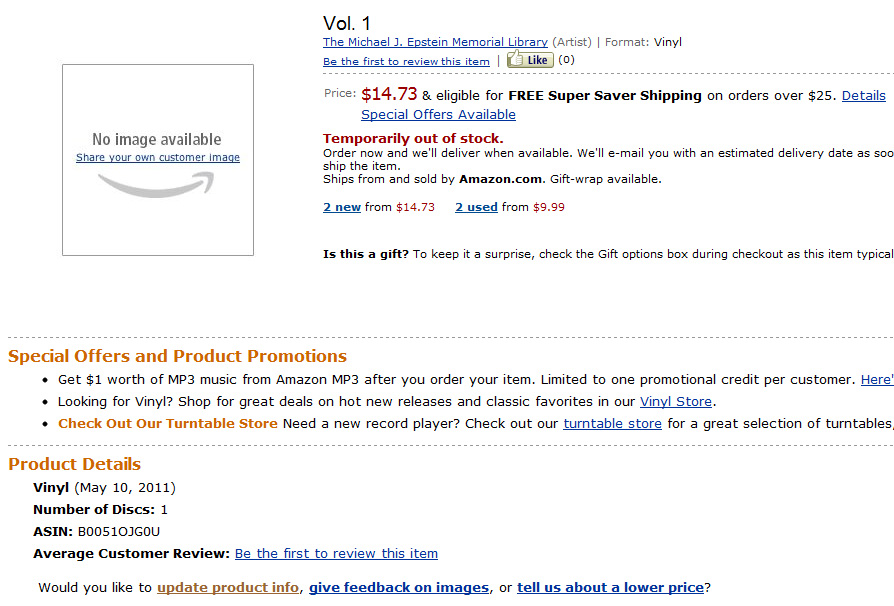 The best news of all is that while the vinyl version of Vol. 1 is temporarily out of stock at Amazon, it is available in 2 new and 2 used forms! Very exciting for something that doesn't exist!

How disappointing, these two used copies are just a couple of jerks selling used promo copies of our CD under the vinyl listing. Nothing is really more rude than selling (or buying) promo discs. Honestly, if you're going to buy a promo disc, I'd rather you pirate our record or just ask me and I'll send it to you. I don't want money going into these peoples' hands. We tried hard to limit the number of promo discs that went out to prevent this as much as possible. I have previously been hit hard by huge numbers of promo copies of The Motion Sick's Her Brilliant Fifteen selling before the real deal, so I have worked harder to prevent it since. It's not illegal to sell promo copies, nor should it be, but it's a really crappy thing to do to small artists who can barely afford to send the promos out in the first place in the desperate hope that they'll get some coverage or radio play. So, turning around and selling it is kind of low. Anyway, let's move on to the new copies available on vinyl!

Sadly, Amazon themselves, the cheaper option, are out of stock on this item that does not exist. Luckily, for me, I can import a copy that is in stock at InAndOutRecords in Austria! Naturally, I hopped right on that!

I am just in time, there are only two left in stock!!! So, I placed the order!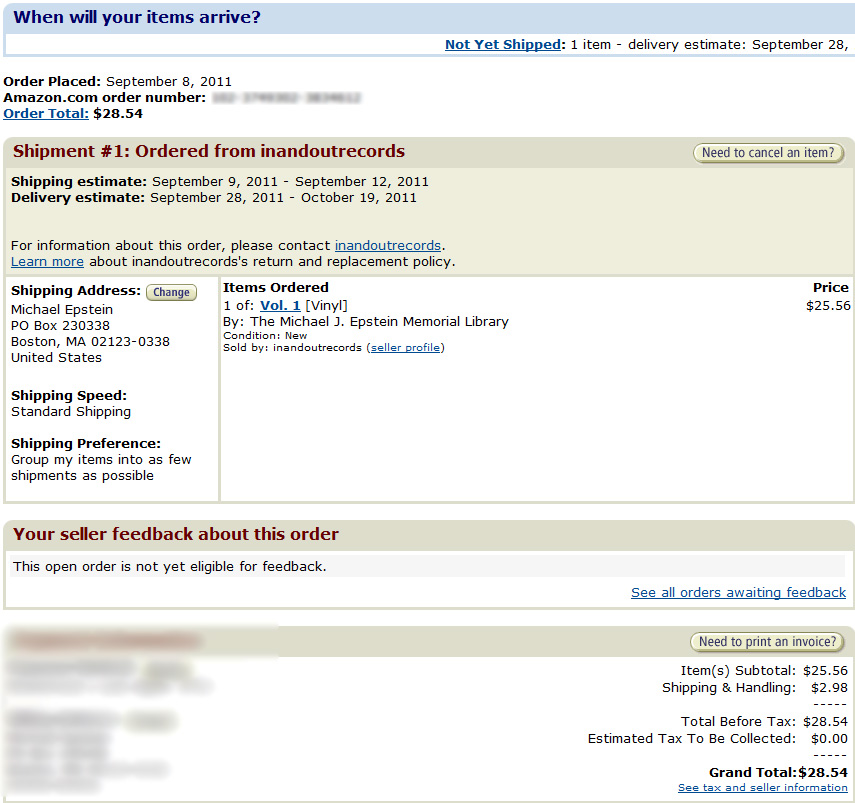 I CANNOT WAIT TO GET VOL. 1 ON VINYL!!! IF YOU HURRY, THERE IS STILL ONE COPY LEFT!!!
Feel free to leave your predictions for what will happen in the comments below…
---
I followed this up with an online chat with customer service about the listing:
You are now connected to Praveen from Amazon.com.
Me:Item listing is completely incorrect – UPC: 885767501591
Praveen:Hello, my name is Praveen.
May I have the item page URL, please?
Me:Hello, I am the artist that created this item: 885767501591 – http://www.amazon.com/Vol-Michael-Memorial-Library-Epstein/dp/B0051OJG0U/ref=sr_1_1?ie=UTF8&qid=1315516418&sr=8-1
The title / artist are both wrong. The format is wrong. There is also no tracklist.
Praveen:Is that Vol. 1?
Me:Yes, it should be:
Artist: The Michael J. Epstein Memorial Library
Title: Volume One
Format: CD (it is not available on vinyl at all)
Tracklist:
1. Amylee 02:15
2. Holy Ghost 03:14
3. The Weeping Song 04:02
4. Every Time I Visit You, It Rains 03:41
5. Stranger 03:06
6. Lymph Nodes 02:13
7. Civil Engineering 02:49
8. 4th Grade Book Report Blues 03:18
9. Oh Emily 02:02
10. Small Crack 03:35
The correct info is included throughout the MP3 store for this album, but this mislisting is leading to confusion as people try to buy it on vinyl.
Praveen:Thanks for the information.
Can you hold for a minute or two while I research this for you?
Me:Yes. Correct details can also be seen at http://music.michaeljepstein.com (for reference, I am Michael J. Epstein)
Praveen:Thanks for waiting.
I'll forward these details to our MP3 Specialist team to correct it on our website and they'll correct the information within 2-3 business days.
Me:The MP3 listings are correct. The physical listing is wrong.
The MP3 page at: http://www.amazon.com/Volume-One/dp/B004QS03EA/ref=sr_1_3?s=music&ie=UTF8&qid=1315516906&sr=1-3 is all correct
Praveen:Thanks for the details.
I'll pass your inquiry with high priority to them to make corrections.
**your details.
Me:Okay, thanks.