I have decided to post the complete collected tale of buying The Michael J. Epstein Memorial Library's Volume One on vinyl…only problem is…it's not released on vinyl. Several people have requested this single post so that they could share it and easily get through the whole thing without clicking through a ton of links. Here it is!!!
Original posts: 1 – ordered on vinyl; 2 – relay order; 3 – order shipped; 4 – Vinyl Received; 5 – Seller's Reply; 6 – Second reply; 7 – Amazon customer service; 8 – Threats from Nandha; 9 – Nandha's Power Grows; Part 10 – The Final Chapter
I decided to pay a visit to Amazon.com today to see how things were rolling with The Michael J. Epstein Memorial Library's material. When I arrived, I found that if I put the UPC for our album Volume One into the search, I was rewarded with a page for the vinyl version of Michael J. Memorial Epstein's Vol. 1. I decided to immediately file a correction.  As it stands, Volume One (not Vol. 1, but that's fairly close) is not available on vinyl…though it's also not by an artist called Michael J. Memorial Epstein. Soon after, they actually corrected the artist name, but the other issues remained long enough to grab this screen cap: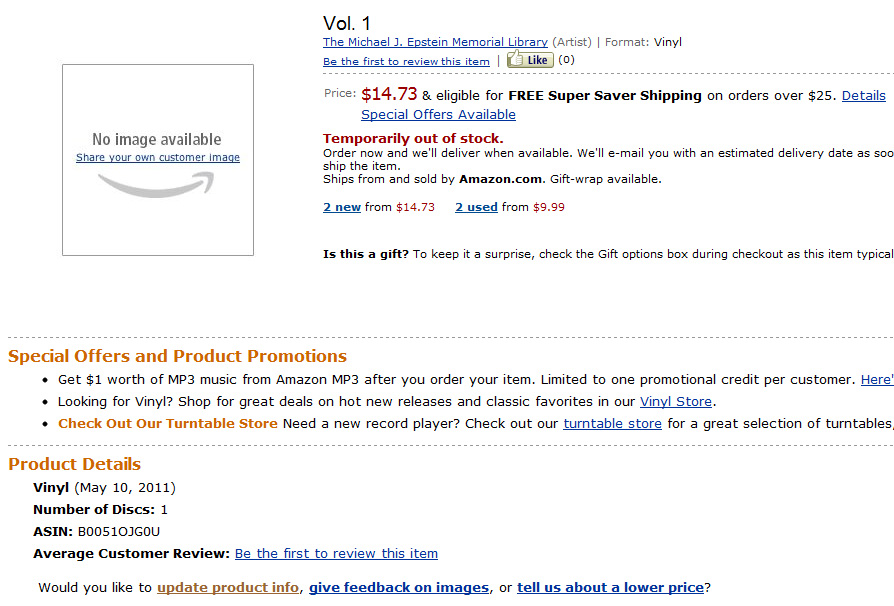 The best news of all is that while the vinyl version of Vol. 1 is temporarily out of stock at Amazon, it is available in 2 new and 2 used forms!  Very exciting for something that doesn't exist!

How disappointing, these two used copies are just a couple of jerks selling used promo copies of our CD under the vinyl listing. Nothing is really more rude than selling (or buying) promo discs. Honestly, if you're going to buy a promo disc, I'd rather you pirate our record or just ask me and I'll send it to you. I don't want money going into these peoples' hands. We tried hard to limit the number of promo discs that went out to prevent this as much as possible. I have previously been hit hard by huge numbers of promo copies of The Motion Sick's Her Brilliant Fifteen selling before the real deal, so I have worked harder to prevent it since. It's not illegal to sell promo copies, nor should it be, but it's a really crappy thing to do to small artists who can barely afford to send the promos out in the first place in the desperate hope that they'll get some coverage or radio play. So, turning around and selling it is kind of low. Anyway, let's move on to the new copies available on vinyl!

Sadly, Amazon themselves, the cheaper option, are out of stock on this item that does not exist. Luckily, for me, I can import a copy that is in stock at InAndOutRecords in Austria! Naturally, I hopped right on that!

I am just in time, there are only two left in stock!!! So, I placed the order!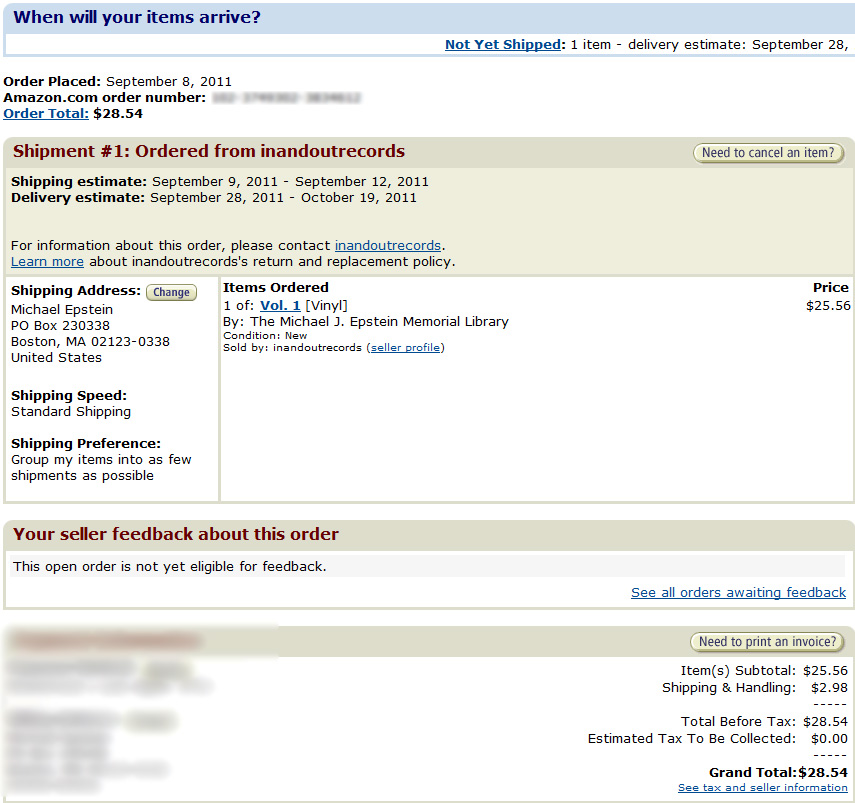 I CANNOT WAIT TO GET VOL. 1 ON VINYL!!! IF YOU HURRY, THERE IS STILL ONE COPY LEFT!!!
Feel free to leave your predictions for what will happen in the comments below…
---
I followed this up with an online chat with customer service about the listing:
You are now connected to Praveen from Amazon.com.
Me:Item listing is completely incorrect – UPC: 885767501591
Praveen:Hello, my name is Praveen.
May I have the item page URL, please?
Me:Hello, I am the artist that created this item: 885767501591 – http://www.amazon.com/Vol-Michael-Memorial-Library-Epstein/dp/B0051OJG0U/ref=sr_1_1?ie=UTF8&qid=1315516418&sr=8-1
The title / artist are both wrong. The format is wrong. There is also no tracklist.
Praveen:Is that Vol. 1?
Me:Yes, it should be:
Artist: The Michael J. Epstein Memorial Library
Title: Volume One
Format: CD (it is not available on vinyl at all)
Tracklist:
1. Amylee 02:15
2. Holy Ghost 03:14
3. The Weeping Song 04:02
4. Every Time I Visit You, It Rains 03:41
5. Stranger 03:06
6. Lymph Nodes 02:13
7. Civil Engineering 02:49
8. 4th Grade Book Report Blues 03:18
9. Oh Emily 02:02
10. Small Crack 03:35
The correct info is included throughout the MP3 store for this album, but this mislisting is leading to confusion as people try to buy it on vinyl.
Praveen:Thanks for the information.
Can you hold for a minute or two while I research this for you?
Me:Yes. Correct details can also be seen at http://music.michaeljepstein.com (for reference, I am Michael J. Epstein)
Praveen:Thanks for waiting.
I'll forward these details to our MP3 Specialist team to correct it on our website and they'll correct the information within 2-3 business days.
Me:The MP3 listings are correct. The physical listing is wrong.
The MP3 page at: http://www.amazon.com/Volume-One/dp/B004QS03EA/ref=sr_1_3?s=music&ie=UTF8&qid=1315516906&sr=1-3 is all correct
Praveen:Thanks for the details.
I'll pass your inquiry with high priority to them to make corrections.
**your details.
Me:Okay, thanks.
————–
Today, the plot thickens a little as I just got this note from CDBaby indicating that I sold a copy of _Volume One_ on CD to INANDOUT RECORDS. Interestingly, I purchased the vinyl version from INANDOUT RECORDS on Amazon!  I already had the suspicion that they were a retailer that just listed every album available at a price much higher than what they could acquire it for and then when someone bought something from them, they placed an order. Looks like that may be true. The tricky part is, I ordered vinyl. They purchased a CD. What will happen next?!?!? We can only wait and see!
———————
Hi Michael!
Just a little note letting you know who bought your music on www.cdbaby.com today.
Break out the champagne!
1CD(s): The Michael J. Epstein Memorial Library / "Volume One"
CURRENT INVENTORY ON OUR SHELVES AFTER THIS ORDER SHIPPED OUT:
Volume One: 3
PURCHASER DETAILS:
1 CD "Volume One" to INANDOUT RECORDS / *****@inandout.***** / AT, AT
ABOUT CONTACTING CUSTOMERS: You should wait 1-2 weeks, to make sure they've received and heard your music, then send them a single email asking if they want to be on your mailing list. If they don't reply, please don't automatically add them to your list.
This email is just a little notice of a sale, but the REAL details are in your members account area. You can log in there at http://members.cdbaby.com
PLEASE NOTE: There is no need to reply to this email unless you have a specific concern or question.
Thanks!
————-
Now for the latest news! I have received a shipping confirmation from Amazon. It will be delivered by "priority airmail."
The questions that arise:
1. Have they ordered the CD from CDBaby and directly shipped it to me via CDBaby? They charged me $28.54 to relay a $12 order from CDBaby if they did this.
2. Are they lying about it having shipped already?
3. It's pretty clear at this point that they are going to send me a CD, even though I clearly ordered the vinyl. What will happen when I alert them to this? I've actually considered e-mailing them saying that I am so excited to receive my vinyl copy because no other retailers, not even CDBaby, carry this album on vinyl, but I haven't decided to move forward on that yet. What do you think?
———————————————————————————————————–
Dear Michael Epstein,
inandoutrecords shipped the following item(s) in your order ***************, placed on September 08, 2011.
Delivery Estimate: September 28, 2011 – October 19, 2011
This shipment was sent to:
Michael Epstein
PO Box 230338
Boston, MA 02123-0338
United States
This shipment will be delivered by Priority Airmail.
You have been charged for the following items shipped today:
Vol. 1
Sold by: inandoutrecords
Condition: new
Quantity: 1
$25.56 each
Item subtotal: $25.56
———————————————————————
Item Subtotal                   :  $25.56
Shipping & Handling             :  $2.98
Total                           :  $28.54
Paid by Mastercard:  $28.54
————————————-
After the order was placed, I asked you all what you expected might happen. There was wild and humorous speculation including Andrew Sempere's hope that the company would do a one-off pressing on vinyl asserting that by purchasing the CD from CDBaby, they were allowed to create a single replica of the content on vinyl (destroying the CD afterward of course). This fascinated me as I would agree that it is indeed potentially legally reasonable, albeit perhaps not technically feasible. Thoughts on that? I'd buy an acetate of my music, for example…especially for $30. Other predictions mostly focused on the likelihood that the company in question would claim that the product was out of stock or that they'd simply send the album on CD hoping that I might not notice the difference in medium.
Well, sure enough, here's what arrived: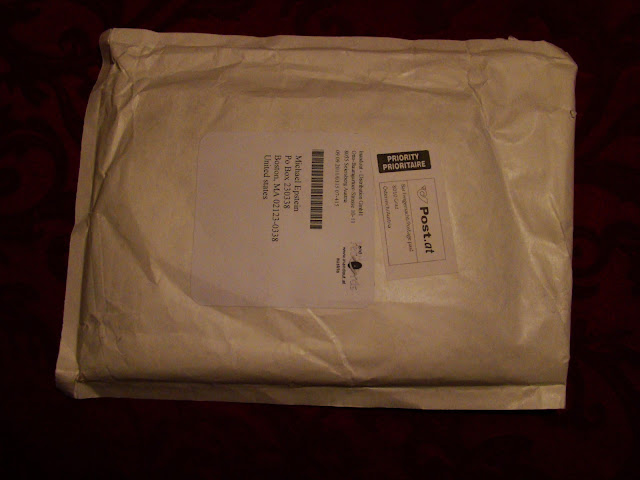 They must have folded that vinyl if it fit in this package!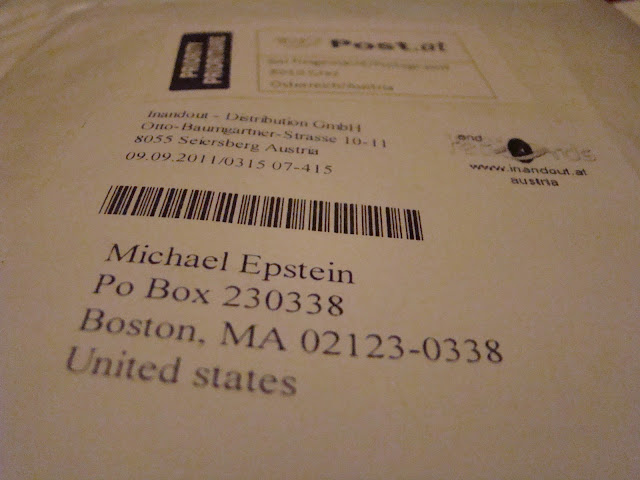 All the way from Austria!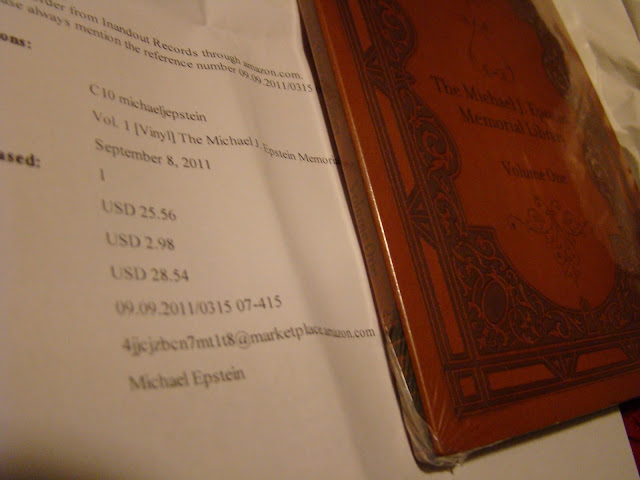 Shipping Record and MJEML"Record"
RECORDS!
 Very excited to hear the fine sounds of MJEML on vinyl, I threw it onto the ol' turntable!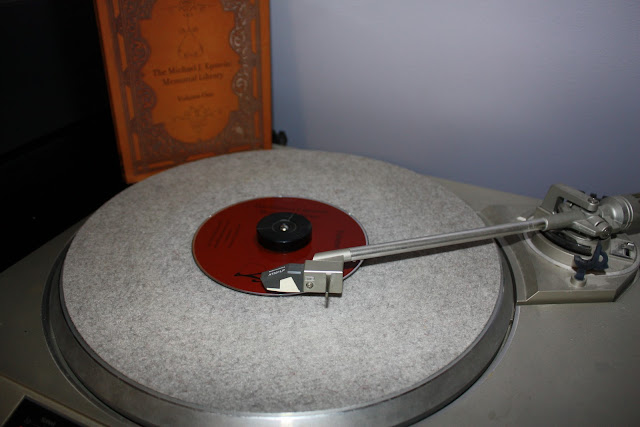 The lovely analog sound of MJEML – special thanks to Jon Bernhardt
Anyway, no matter how I set the thing on the record player, the beautiful sounds of The Michael J. Epstein Memorial Library would simply not come out. Brian Mullen wisely suggested that I test it out on my Hip Pocket Record Player…but alas, no luck! Still no beautiful music.
I was forced to write a puzzled message to inandout records to see if they had any suggestions:
Dear InandOut Records,
Thank you for your recent shipment of the vinyl version of The Michael J. Epstein Memorial Library's _Volume One_. I have been extremely eager to hear these beautiful songs on crisp, clear vinyl, as they were meant to be heard. I have one concern. The vinyl I have received is very small – smaller than a standard 7″ and doesn't seem to play properly on the turntable. The needle simply slides right off and just makes a horrible noise.  While I might expect this type of sound quality for a Merzbow album, for example, I don't believe this is the correct stylistic fit for the current artist. I even tried playing it on my Philco Ford Hip Pocket Record Player as that appears to play records more of the appropriate size (see attached image). Still no luck. Perhaps there is some difference between American record players and Austrian players. Alternatively, it is possible that the record I have received contains a very short Throbbing Gristle song and is simply mislabeled. Please advise if I need special equipment to play this record or if I have received a misprinted item. Thank you very much for your assistance!
Yours in Science,
Michael J. Epstein


——————————————————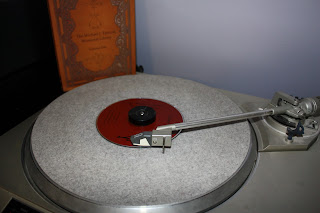 The lovely analog sound of MJEML – special thanks to Jon Bernhardt
Dear Mr. Epstein,
we are very sorry to hear that you are not satisfied with your article.
Please send the article back to the following address (please note that
we do not accept NOT PREPAID shippings!):
Inandout – Distribution GmbH
Otto-Baumgartner-Strasse 11
8055 Graz-Seiersberg
Austria
After we have received the article, we will check your complaint, and if
it is warrantable you will get of course a new article or a full refund
of your payment.
We will contact you as soon as we have received the article from you.
Please enclose the delivery note to the return sending.
Sorry for the inconveniences you may have.
Thanks in advance and
best regards,
"Tristan Diesel"
———————————
Inandout – Distribution GmbH
Otto-Baumgartner-Strasse 10-11
8055 Seiersberg
Austria
UID#: ATU63730911
E-Mail: [e-mail address removed] Fax: ******************
———————————————————————————————————–
Thank you for your reply and your willingness to field test this very strange record. Unfortunately, I spent all of my money purchasing this album. I had saved up my GRIT Magazine sales profits for over a year to hear these wonderful sounds on vinyl. Admittedly, I was able to also use GRIT points to obtain an aquarium full of sea-monkeys, but they don't seem to have a very high resale value. As I cannot pay shipping and you do not offer pre-paid shipping on this defective (or possibly Throbbing Gristle mislabeled) product, would you be willing to accept a pre-paid shipping scenario in which I included my family of sea-monkeys. If you do accept this offer, I would actually appreciate if I could keep Marvin the Sea-Monkey as he is a great conversationalist. I believe that I should be able to seal the sea-monkey aquarium with duct tape and there presumably would be no leaking in shipment. Thank you again for your assistance on this matter.
Don't Stop Believin',
Michael J. Epstein
—————————————————————————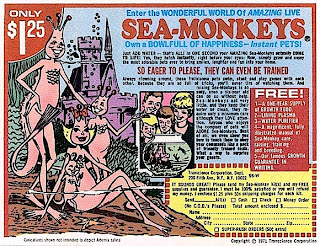 Dear Mr. Epstein,
we appreciate your generosity and your offer to send your sea monkeys!
Nevertheless, we don't want them to undertake the long journey to
Austria in a dark vessel, as this would surely be inconvenient for them.
We received this record from CD-Baby. I don't know who produced this
record, but we are sure that all remaining copies are in similar condition.
Unfortunately we cannot take the responsibility for the production of
this record. Maybe you can contact CD-Baby directly to get a replacement?
Best regards,
D—– S——
Online-Sales
———————————
Inandout – Distribution GmbH
Otto-Baumgartner-Strasse 10-11
8055 Seiersberg
Austria
UID#: ATU63730911
Firmenbuchnummer: FN 298213 z
Firmenbuchgericht: Handelsgericht Graz
Fax: ******************
Inandout @ Facebook: http://www.facebook.com/inandoutrecords
Inandout @ Myspace: http://www.myspace.com/inandout_records
Inandout @ Twitter: http://twitter.com/InandoutRecords
——
My reply:
Thank you for your kind reply. The sea-monkeys were relieved to hear about your response. Marvin told me that he would be lonely if I had sent the rest of his family overseas. We celebrated with extra algae that evening. Unfortunately, his relief was short-lived. I did contact the company CD-Baby as you suggested to make a similar sea-monkey offer. I was worried that I would be communicating with toddlers when I first called them, but I was greatly relieved to find an adult on the other end of the phone. Well, I couldn't verify their age as they would not give me any personal information, even when I asked nicely. Still, the voice was at least a teenager or perhaps a pre-teen who had gone through puberty. I suppose it might have been a child talking through a voice disguiser that made him sound older. Regardless of their age, they seemed very reliable. They told me that they would gladly accept the sea-monkey family, even without Marvin, in exchange for the item's return. After a farewell party with monkeycake and plankton punch, the sea-monkeys were off on a trip to the west coast. They sent a few postcards on the way and seemed to enjoy the journey. After they arrived, upon investigation, the adult baby informed me that the the item was indeed very defective vinyl and that it was in a format not appropriate for play on turntables at all. They told me I might not have this special kind of player (a seedy player) that handles these special records called seeds. They suggested that I speak with you. They did offer to relay the sea-monkeys to you in exchange for resolving this issue, but they asked if it would be possible to keep Marvin's first cousin Gertrude as apparently the staff there has taken quite a liking to her. Marvin is actually quite sad and misses Gertrude a lot – he was terribly fond of her. I am thinking that perhaps I should just reunite them all. It was probably a mistake to separate them. I know I would not want to ship my sisters off to a far-away place. That is actually not completely true. I would like to ship one of my sisters off, but the other seven, I would greatly prefer for them to stay in our cottage. Would you like for me to have them send the whole family (without Gertrude of course) and to have Marvin travel to meet you as well?
Thinking of you,
Michael J. Epstein
———————————————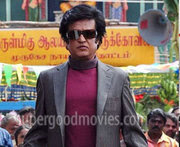 I like to put a face to the name.
This is the best picture I could find of someone named Yokesh K.
I will now assume that this is who I am talking with at Amazon.
Well, no response for a few days from Inandoutrecords, so I thought it high time to contact customer service at Amazon and see what they could do to help me out. I was put in touch with a fellow named Yokesh K. Here are our communications thus far.
10/13/11 09:09:11
Your Name:Michael Epstein
Order Id: 102-3749302-3834612
Selected Order Items:
Vol. 1
Comments:
Dear Customer Service,
I have placed the above order for a copy of The Michael J. Epstein Memorial Library's Vol. 1 on vinyl. I was very eager to receive this record as I hear that it sounds beautiful in this format. I waited patiently with my roommates – a group of sea-monkeys led by a group of elected officials including Marvin the sea-monkey and his cousin Gertrude. We stood by the door awaiting arrival of this package. We were very excited when it finally did arrive and Marvin immediately put it on the record player.  Gertrude took this photograph:
When we put the needle down, it made a horrible noise and slid all around. It didn't sound like the harmonious and lush music that we expected at all. Instead it sounded like Throbbing Gristle (maybe it is a misprinted record?). Upon contacting InandOutrecords, they suggested mailing it back to them in Austria at my expense. I explained that I could not afford such a mailing as I had spent all of my money that I had saved selling GRIT magazine on the record. I also mentioned that my only other liquid possession was my sea-monkey friends. While I did not want to part with them, after much discussion, the sea-monkeys agreed that they could use a change of scenery from here in dank New England and might enjoy a journey to Europe. I very kindly offered to send their tank overseas to cover postage costs. Of course, I couldn't send Marvin the sea-monkey as he is too good a conversationalist.
I heard back that although the sea-monkeys were a nice gesture, they could not be used for currency in Austria. As I am unfamiliar with their monetary system, this was not previously known to me. In school, we spent no time on this matter. They did suggest that I contact CDBaby, their source for this record.
After great relief in finding that CDBaby was not actually a real baby, but rather an adult…or at least a child that had gone through puberty…or maybe an advanced smartphone application that performs voice modultation, I found out that they did not offer this Vol. 1 on record, but rather in some archaic format called a seedy. As I don't have a seedy player – what they suggested I would need, I simply must request that this item be replaced with the vinyl version as promised in the original purchase.
Thank you so much for your assistance. I look forward to receiving my vinyl and the return of my sea-monkey family from their visit to CDBaby. I know that Marvin is probably going to cry when he sees Gertrude again. He is very emotional.
May the force be with you,
Michael
—————
Hello,
I'm sorry to hear that the item you ordered from inandoutrecords wasn't what you arrived defective.
To return the item, please visit our Online Returns Center:
www.amazon.com/returns
The Online Returns Center will guide you through the process of submitting a return request to inandoutrecords.
Once the seller approves this return, an e-mail will be sent to you with the seller's return address and instructions.
You can check the status of this request via the "Manage Your Returns" button in the Online Returns Center at:
www.amazon.com/returns
To learn more about seller returns, please visit our Help pages:
Please give the seller 3 business days to get back to you. If you can't work something out with inandoutrecords, you're always welcome to file an A-to-z Guarantee claim online (www.amazon.com/a-to-z-guarantee). You'll be eligible to file a claim 3 business days after contacting the seller (select the reason for filing as "Order contained damaged/defective/incorrect items").
I hope this helps. We look forward to seeing you again soon.
Thank you for your recent inquiry. Did I solve your problem?
If yes, please click here:
If no, please click here:
Best regards,
Yokesh K.
Amazon.com
Your feedback is helping us build Earth's Most Customer-Centric Company.
——————————
It is true Mr. K (or may I call you Yokesh?), that the item I ordered from inandoutrecords wasn't what I arrived defective. One of my sea-monkeys, Madeline, has the last name K. also. Is she related?
Your return center says I must contact customer service and cannot directly file a claim. I hope that you will help resolve this as I am now hearing rumors of terrible and difficult living conditions for the sea-monkeys in Oregon. Apparently, they don't have the same protective labor laws as here in Massachusetts. I am very worried and would appreciate immediate assistance.
Thank you!
Chutes and ladders,
Michael