The complete combined story has been presented in a single post here
.Previous posts: 1 – ordered on vinyl; 2 – relay order; 3 – order shipped; 4 – Vinyl Received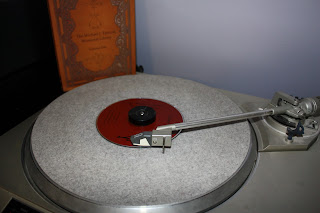 The lovely analog sound of MJEML – special thanks to Jon Bernhardt
Dear Mr. Epstein,
we are very sorry to hear that you are not satisfied with your article.
Please send the article back to the following address (please note that
we do not accept NOT PREPAID shippings!):
Inandout – Distribution GmbH
Otto-Baumgartner-Strasse 11
8055 Graz-Seiersberg
Austria
After we have received the article, we will check your complaint, and if
it is warrantable you will get of course a new article or a full refund
of your payment.
We will contact you as soon as we have received the article from you.
Please enclose the delivery note to the return sending.
Sorry for the inconveniences you may have.
Thanks in advance and
best regards,
"Tristan Diesel"
———————————
Inandout – Distribution GmbH
Otto-Baumgartner-Strasse 10-11
8055 Seiersberg
Austria
UID#: ATU63730911
E-Mail: [e-mail address removed]Fax: *********************
———————————————————————————————————–
Thank you for your reply and your willingness to field test this very strange record. Unfortunately, I spent all of my money purchasing this album. I had saved up my GRIT Magazine sales profits for over a year to hear these wonderful sounds on vinyl. Admittedly, I was able to also use GRIT points to obtain an aquarium full of sea-monkeys, but they don't seem to have a very high resale value. As I cannot pay shipping and you do not offer pre-paid shipping on this defective (or possibly Throbbing Gristle mislabeled) product, would you be willing to accept a pre-paid shipping scenario in which I included my family of sea-monkeys. If you do accept this offer, I would actually appreciate if I could keep Marvin the Sea-Monkey as he is a great conversationalist. I believe that I should be able to seal the sea-monkey aquarium with duct tape and there presumably would be no leaking in shipment. Thank you again for your assistance on this matter.
Don't Stop Believin',
Michael J. Epstein