The complete combined story has been presented in a single post here.
We return for the final chapter of the saga of buying The Michael J. Epstein Memorial Library's Volume One on vinyl…only problem is…it's not released on vinyl.
Previous posts: 1 – ordered on vinyl; 2 – relay order; 3 – order shipped; 4 – Vinyl Received; 5 – Seller's Reply; 6 – Second reply; 7 – Amazon customer service; 8 – Threats from Nandha; 9 – Nandha's Power Grows
Dear Mr. Epstein,
please send back the item to the following address:
Inandout – Distribution GmbH
Otto-Baumgartner-Strasse 11
8055 Graz
Austria
We will be happy to issue a refund after we will have received the returned parcel in our distribution centre.
regards,
"Tristan Diesel"
(Inandout Distribution)
————————————–
It is clear that your forces have been compromised as you have not used the secret codeword that we agreed upon. As is the protocol during wartime, I must cease communication with you. Our analyses have indicated a high likelihood of a Kumarian trap. You are probably tracing our IP from this message to determine our location. I must warn you, however, that I have sent this message via a roving connection, so you will not be able to find me at the location determined. I assume at this time that all communications from you are actually from Nandha Kumar or his henchmen. I do hope you are liberated quickly and that you are not treated badly. There are rumors among the people here that the Geneva Conventions have been suspended and that men are being tortured for information.
Thus, everyone may be compromised. I am therefore taking my vinyl and heading to an underground bunker in an undisclosed location. I hope to return once this all runs its course.
Stay Strong!
Michael J. Epstein
—————————————-
From: "Amazon.com"
To: "mje@michaeljepstein.com"
Subject: Refund on order 102-3749302-3834612

Hello,

We're writing to let you know we processed your refund of $28.54 for your Order 102-3749302-3834612 from inandoutrecords.

This refund is for the following item(s):

Item: Vol. 1
Quantity: 1
ASIN: B0051OJG0U
Reason for refund: Account adjustment

Here's the breakdown of your refund for this item:

Item Refund: $25.56
Shipping Refund: $2.98

We'll apply your refund to the following payment method(s):

MasterCard Credit Card **************: $28.54

This amount has been credited to your payment method and will appear when your bank has processed it.

Have questions about our refund policy?
Visit our Help section for more information:

We look forward to seeing you again soon.

Sincerely,

Amazon.com
We're Building Earth's Most Customer-Centric Company
http://www.amazon.com
———————————————————-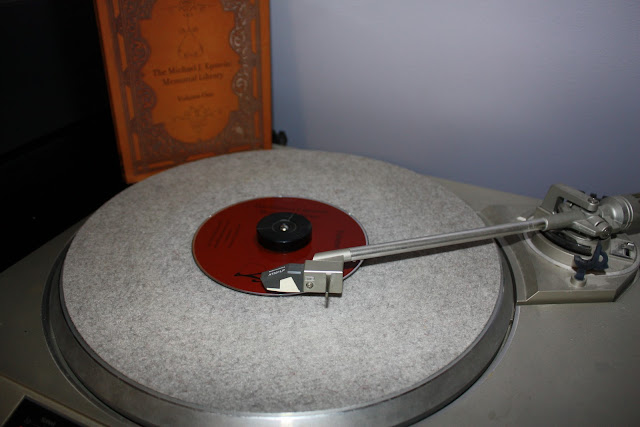 The lovely analog sound of MJEML – special thanks to Jon Bernhardt
Summary: I ordered our album that was sold on vinyl, but didn't exist on vinyl via Amazon. InandOutRecords ordered it from CDBaby and had it directly shipped to me. I earned about $6 from CDBaby. I received a full refund and got to keep my own CD. Additionally, the album has been removed from sale listings by InandOut on both Amazon and on their web site. My original plan was actually to order it again from their web site as it was listed until very recently, but now it has since been removed.
Moral: Don't be a jerk and sell my album (that doesn't exist) for an exorbitant markup.