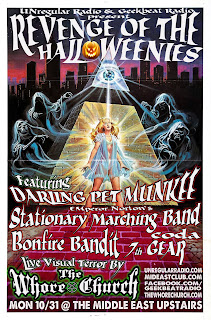 UPDATE: See the final video at: http://blog.michaeljepstein.com/2012/06/darling-pet-munkees-creature-double.html
Darling Pet Munkee (a side-project from Michael and Sophia with Catherine Capozzi of Axemunkee) news is here! Boing Boing used another song of ours ("Darling Pet Monkey") in a second Gweek Podcast! To celebrate we're offering a free download of our entire 7-song record, Glows in the Dark, just for this month (otherwise we're just releasing one song per month until January.) Our live debut is on Halloween at The Middle East Upstairs – presented by Unregular Radio and Geekbeat Radio – event details here. They just released a flyer for the show (to the left)!
In addition to DPM, we've got:
-Emperor Norton's Stationary Marching Band http://www.ensmb.com/
-Seventh Gear http://seventhgear.bandcamp.com/
-coda – http://coda.s3m.us/
-Robot and the Wizard – http://www.robotandthewizard.bandcamp.com/
-Bonfire Bandit – http://www.facebook.com/BonfireBandit
** with videos during and between bands by THE WHORE CHURCH ** www.thewhorechurch.com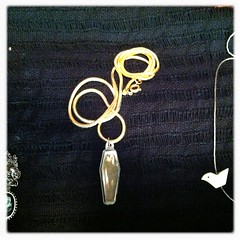 This past weekend, we also had the second day of our video shoot for the song "Genuine Soil From Dracula's Castle" with Chelsea Spear (also see day one shoot).
We were joined by the beautiful and talented Porcelain Dalya in the role of ingenue who buys the amulet, but then must face the CONSEQUENCES!!! Anyway, we had a super fun time shooting around Union Square in Somerville. Justin Moore got some cool photos (posted to his Flickr) that we've embedded as a slideshow. Some additional photos that I took are below that!
| | | |
| --- | --- | --- |
| Porcelain examining the goods! | can you move the Subway sign, please? | I think Cathy has played a thief before! |
| Cathy examining the amulet | try it again! | Porcelain Dalya and Michael |