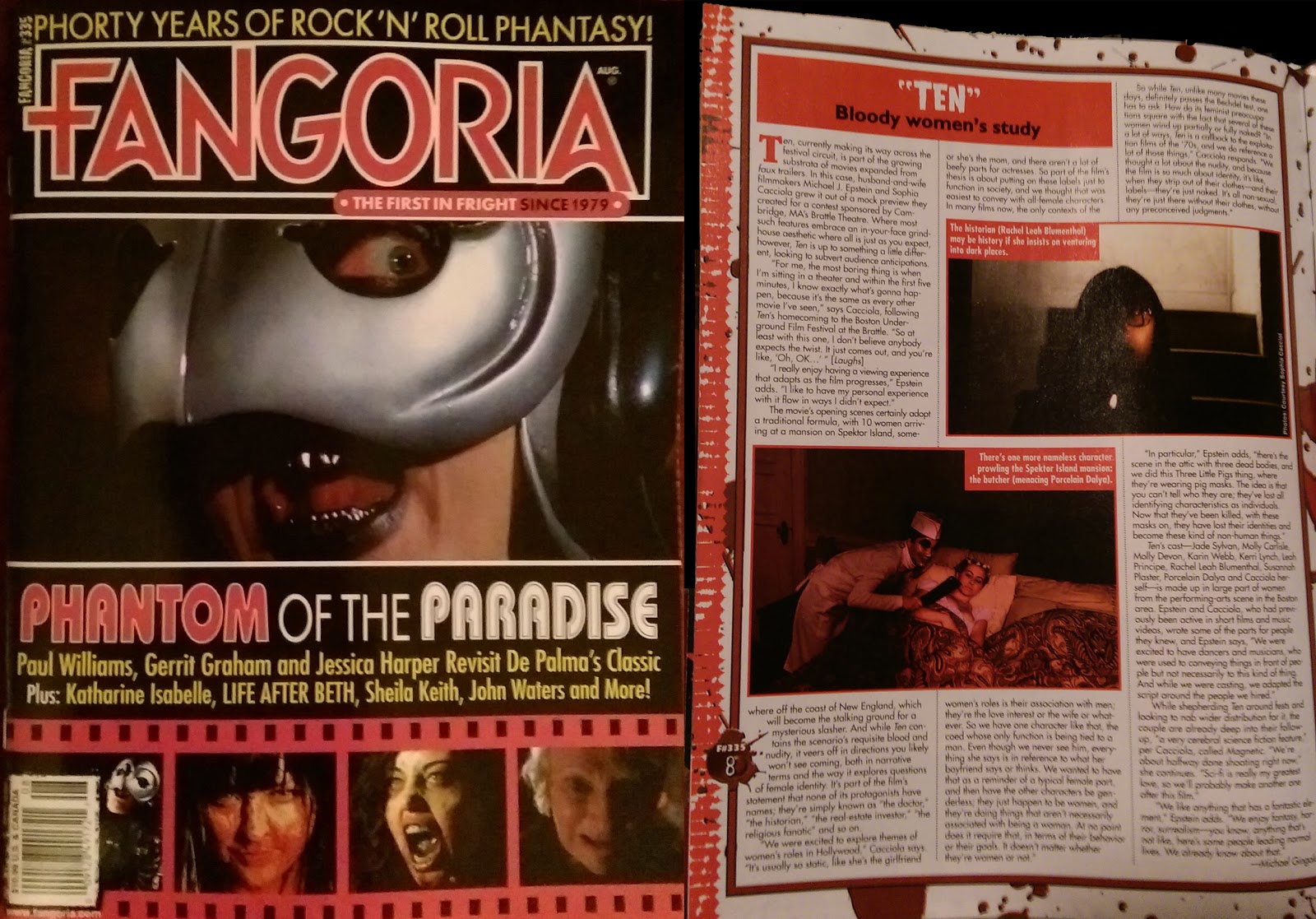 UPDATE: TEN IS NOW AVAILABLE FOR YOUR EYES AND EARS!
Buy the issue!

"TEN is up to something a little different, looking to subvert audience expectations…and while TEN contains the scenario's requisite blood and nudity, it veers off in directions you likely won't see coming, both in narrative terms and in the way it explores questions of female identity." – Michael Gingold, Fangoria, Issue #335


As a young child in the 80s, I was pretty obsessed with horror, sci-fi, and just plain strange films. At first, it was the Universal Monsters, then it was A Nightmare on Elm Street and House, my first R-rated movies, viewed nervously from the corner of the room through my fingers at retrospectively surreal 5th grade spin-the-bottle parties. By junior high and early high school, I was tearing through every strange title I could find at one of my local video-rental stores with my friend Josh for our frequent four-movie-day marathons or thumbing through the TV guide listings for Cinemax and Showtime's overnight slots. Long story short, I loved movies that took a chance. I loved movies that told a unique, strange, personal story to a niche audience. Whether it was compelling, surrealist horror like Phantasm or ridiculous tongue-in-cheek gibberish like Blood Diner, I consumed and loved it all. And when I wanted to learn more about my favorite popular (or obscure films), Fangoria was the top choice on the magazine rack, with everything from previews of upcoming weirdness to behind-the-scenes looks at the practical effects creating the wonderful gross-out momennts in my favorite movies. Undoubtedly, Fangoria fed my curiosity about how these movies got made and sparked an interest in making them myself! My love of genre film has continued (though I favor the classics of my youth over more modern fare) and when it became feasible to create something of my own, I went back to everything I had learned from my study of not only film itself, but the commentary and insights of Fangoria and its cousins.
Then the most amazing thing happened…
Michael Gingold of the very magazine that had such an impact on me as a film lover and a filmmaker, was on the jury at the Boston Underground Film Festival, and was very kind in asking to interview Sophia and me about TEN, which was screening at the fest. We had a lot of fun going on and on about all of the things we intended with the movie, and all of the themes we tried to jam into 82 minutes. And now…
Issue 335 of Fangoria is out! It includes our full-page feature interview about TEN, with a focus on the underlying themes and the film's exploration of female identity. We are deeply honored to be included in the magazine, and to have something in life come full circle in this way is a wonderful and rare moment that I will appreciate and cherish.
Buy a copy in the Fangoria store and help keep Fangoria telling the stories of people like us, and putting those stories in print right next to the big guys.