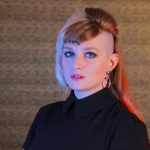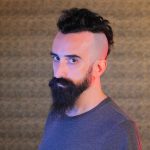 What was 2018? Who knows? We shaved the sides of our heads. We had a busy year; probably our biggest news this year was finishing Clickbait, bringing it to festivals, and signing a distribution deal for it to come out in 2019. We worked a lot and went to a LOT of movies! Here's our film diary (including all 400 or so movies we watched in 2018 and where/when/how/and who was there)! Some of our favorite 2018 movies were: Suspiria, Sorry to Bother You, You Were Never Really Here, Blackkklansman, Mandy, and Black Panther.
We also got to see a couple of our favorites in concert: Nick Cave & the Bad Seeds at The Forum, John Carpenter on Halloween at the Palladium, Goblin performing with Suspiria at Catch One.
We did a multimedia new year's card / video countdown!
Here's what we looked like in 2018:
Clickbait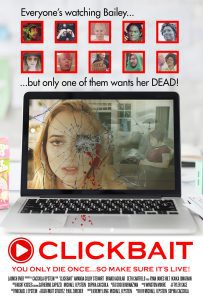 Clickbait was shot in December 2017, so we spent the first half of 2018 finishing it up and then by Fall we were able to bring it to some of our favorite festivals! We signed a distribution deal in November with ITN to bring it to you sometime in 2019!
We were #2 on the Puk'em Up Podcast Best of 2018 and #3 on the Trainwreck'd Society Top 20 of 2018! We also made #8 on Neal Jones of Without Your Head's Top 2018 Horror Films and got a mention from The Headless Critic!
Our festival screenings and awards:
GenreBlast Film Festival* – 9/1/18 – World Premiere – Alamo Drafthouse, Winchester, VA - Winner: Best On-Screen Duo (Amanda Colby Stewart & Brandi Aguilar); Nominated: Best Actress (Amanda Colby Stewart,  Brandi Aguilar), Score, Screenplay, Cinematography
Arizona Underground Film Festival* – 9/20/18 – The Screening Room, Tuscon, AZ - Winner: Best Horror Feature
Sanford International Film Festival* – 10/16/18 – Smitty's Cinema, Sanford, ME – Winner: Best Music (Catherine Capozzi/Night Kisses); Nominated: Best Feature, Best Music, Audience Choice Award
FANtastic Horror Film Festival* – 10/27/18 – Mission Valley UltraStar Cinemas Hazard Center, San Diego, CA – Winner: Best Supporting Actress (Brandi Aguilar); Nominated: Best Actress (Amanda Colby Stewart), Best Supporting Actor (Seth Chatfield), Best Feature, Best Score
Buffalo Dreams Fantastic Film Festival* - 11/3/18 - Dipson Eastern Hills Cinema in the Eastern Hills Mall, Williamsville, NY - Winner: Best Micro-budget Feature; Nominated: Outstanding Horror Feature, Outstanding Comedy Feature, Outstanding Director, Outstanding Screenplay, Outstanding Actress in a Feature (Amanda Colby Stewart)
We'll be headed to one or two more festivals early 2019 before the film is released, so keep an eye out!
Some reviews so far:
"...a strong undercurrent of biting social commentary presented in a satirical manner. Everything from social media to corporate sponsorship to instant celebrity to the corruption of law enforcement and government is well and duly skewered. But fret not, because while these themes are being explored, there is a true reverence to our beloved horror biz on display as well (especially for the slasher and giallo genres)." - Daniel XIII / Horror Fuel - 5 out of 5 skulls
"A scathing observation of the habits of the internet age, Clickbait asks us to take a hard look at our online viewing habits and the true reasons for our enjoyment of the darker things that appeal to us, and demands we truly consider the kinds of things we might be inadvertently complicit in." - Andrew Marshall / Starburst - 8 out of 10
"You're a click away from a topical and trendy horror satire...Clickbait's humor is an evolution of the Kaufman schlock in TROMA films, updated for a modern audience, and dare I say a little more sophisticated for adults." - The Headless Critic / Without Your Head - 4 out of 5 headless critics
"...a 'must see' film." - Jason Kittrell / Zombies in my blog - 4 out of 5 stars
At festivals promoting Clickbait:
The Caul Screenplay
Sophia also went to a couple of festivals with the script for a dream project, The Caul.
The Caul was a script finalist at GenreBlast, Nightmares, and Women in Horror Film Festival (where it won an honorable mention).
Genre:  1970s-style folk horror
Logline: The balance of light and darkness is disrupted as a young girl born under mysterious circumstances in a superstitious coastal town is recruited by a dying witch to carry on her order's tradition.
Women of Rock Oral History Project


We continued to work with the Women of Rock Oral History Project as videographers/sound/editors in capturing the life stories of amazing women who have been underrepresented in the media and thus history.
This year we helped out on shoots with:

Sophia worked a ton this year as a First Assistant Camera (Focus Puller) and as a Director of Photography and Camera Operator. Most of those projects are still in post! Here are some photos of her on set:
---
One short she shot for Tyler Sage, Leopard Parts I & II starring Michael had it's world premiere at GenreBlast Film Festival, and Michael was even nominated for Best Actor in it!
---
Sophia also shot a series of live performance music videos for American Idol winner Lee DeWyze:



---
Michael starred in a parody music video for Veronika Mindal

---
Michael also worked sound on Quiet Desperation; "Period Stain" and did post-production sound on Manos Returns, the sequel to Manos: The Hands of Fate. He also helped out on this Princess Rap Battle.
---
Michael also managed to land the prestigious and important role of, "guy in a wicker chair drinking whiskey #1" on the TV Show, Legion!