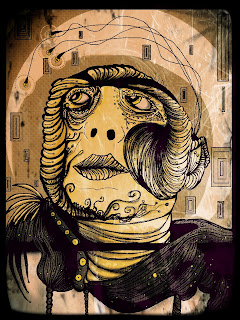 Walter Sickert's "Saint of Glass Worms"
Last year, https://mjeml.michaeljepstein.com/'s Art-Exchange Project included 5 songs written via the inspiration of 5 of our favorite visual artists. Each of those artists also then created a new visual piece based on a song of ours. One of the songs we wrote was inspired by Walter Sickert's "Saint of Glass Worms."
Well, back when Sickert and crew did a Kickstarter for their album Soft Time Traveler, I knew I wanted to support their project, and as I read through the possible Kickstarter rewards, I came across one very interesting item…an opportunity to have the band cover any song you wanted. I figured the best way to close the circle of a band writing a song based on the artwork of a guy in a band is to have the guy in the band's band cover the song inspired by his work. Confusing? Possibly. It's singing about singing about art. That should clear it up for you.
Here's our original:
…and their cover:
Of course, you should grab their whole pay-what-you-want record of Kickstarter covers at:
http://armyoftoys.bandcamp.com/album/toys-of-future-past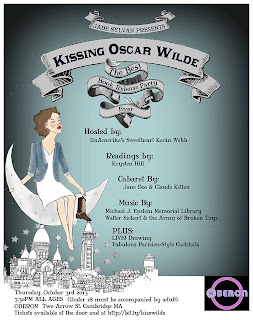 Conveniently, our bands also share the stage on October 3 at Jade Sylvan's Kissing Oscar Wilde book release party!
https://www.facebook.com/events/147511405445366/
Tickets: http://bit.ly/kisswilde
Why go to a book release party in a basement, when you can attend one in a giddily drunk underground nightclub? What about a nightclub with the glamour of prewar Paris – or what you imagine glamour was like in prewar Paris?
Author Jade Sylvan obliges with the fabulous launch of Kissing Oscar Wilde, their star-crossed memoir about identity, art, and romantic friendships.
(You can buy your copy of the book along with your ticket and save $2 off the cover price! Plus, Jade will sign it at the show!)
THE SHOW:
Music by: Walter Sickert and the Army of Broken Toys, https://mjeml.michaeljepstein.com/ and Katie Kat
Cabaret by: Jane Doe and Claude Kitten
Readings by: Krysten Hill
Hosted by: UnAmerika's Sweetheart Karin Webb
PLUS:
Fabulous Parisien-inspired cocktails!
Staged performances with AUDIENCE PARTICIPATION!
LIVE DRAWING by: Zombie Romance (another participant in the MJEML Art Exchange)!
"Louis stayed clothed on the bank with the two body-shy college girls. He told me later it was because he had jock-itch, not because he was not fun-loving and star-gazing." – Kissing Oscar Wilde, p. 18