Playlist of all of our 48 Hour Films: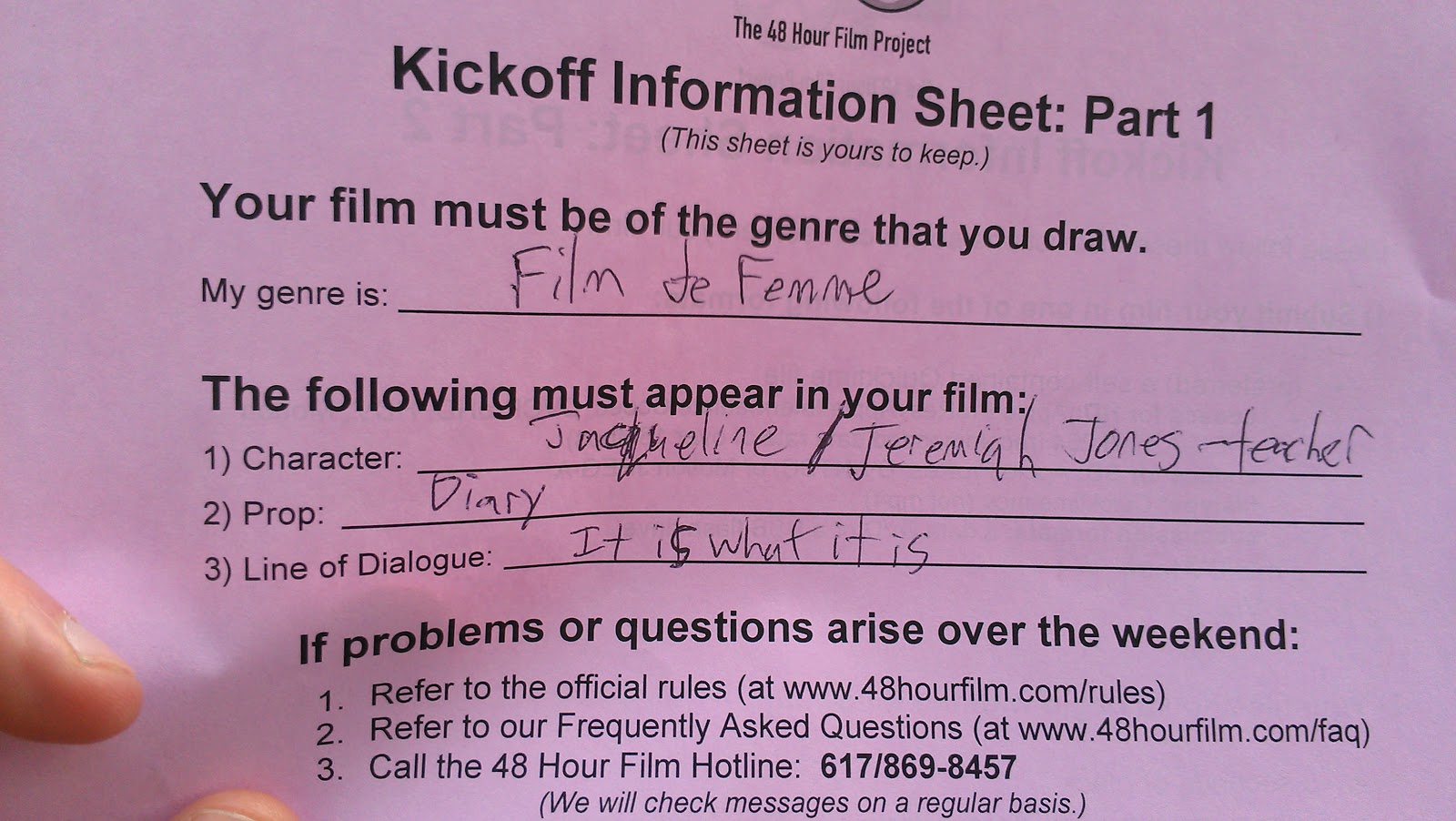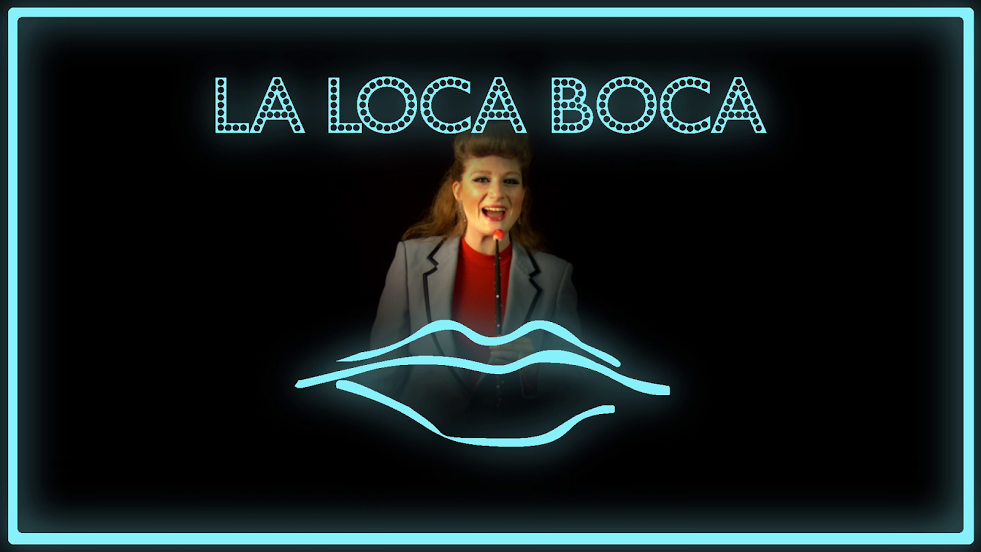 Friday night we came up with the idea of a near-future dystopian game show, a combination of Running
Susannah Plaster
once again reprised her role of Ivana Wright,
Catherine Capozzi
brought back Dr. Bonnie Higgins, and Lisa Battiston embodied this year's Jacqueline Jones. We even also incorporated the previous props of chocolate and rope! We also were able to crowdsource some amazing people to contribute vocals to our game show's studio audience! Thank you to: David Joseph Clarke, Eowyn Evans, Deborah Haber, Frank Houlihan, Liz McGuire, Meff, and Richard Wentworth for lending us your beautiful voices! This was also the first year that we had guest stars, Lee & Nora Maguire in our very special public service anouncement!
Sophia made it onto the official Bosotn 48 Hour  Film Project lobby poster!
Man, American Idol, and The Price is Right. A show where you sing for your life! As a running joke to ourselves, we have been incorporating the required elements of previous years' 48 Hour Film Projects, so
You can gear up for our screening by listening to the soundtrack!

And now, some thoughts from some of our bandmembers that participated this year:
LISA BATTISTON
After last year's 48 Hour Film Project, I wrote in my recap about how participating with MJEML brought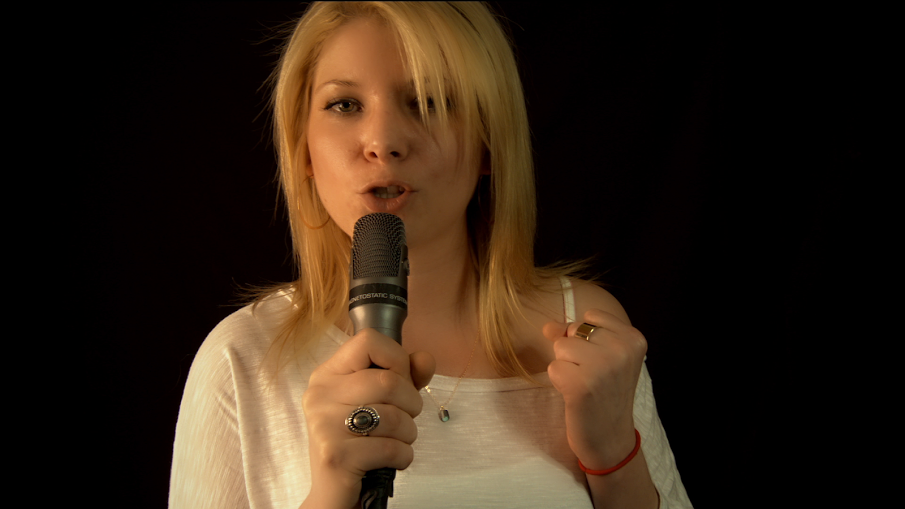 me out of my comfort zone when I wore sparkle shorts and a sequined tank top.
Ohhhh, did they up the ante for me this year.
You should know that I don't publicly sing. Shower singing is fine. Inebriated, "Girl, this is my song," bar singing is fine. Mocking popular Top 40 hits I secretly enjoy is fine. Otherwise, I remain tight-lipped.
I sang in our 48HFP entry for this year. Four years after joining MJEML, I sang my very first song.
I SANG. A SONG.
This is sort of a big deal for me because singing is not something I am not confident doing. I like playing bass for the band because I'm part of a collective. I'm part of a team! A group! And I can kind of stand in the back corner and hide behind my instrument. I'm not singularly paid attention to, I guess. I'm shy? Sure. I'm shy.
…I also can't sing very well.
So, to sing is something I admire very much in other people who do but have generally avoided myself. Vehemently avoided. It's something I'd rather do in the shower when no one's watching or at the bar when bourbon's taken away most of my inhibitions.
Somehow, I ended up singing one of our songs for our 48HFP entry this year. I don't know how that happened. There wasn't even any bourbon involved.
And as we filmed, Mike advised that I should really try to rock out. That I should be pogo-y like Ian Curtis or snarl like Billy Idol. Which I tried to do.
But after our first take, he said I looked too stiff. I needed to loosen up. And I knew I was neither pogoing nor snarling. I felt a little silly, I guess, trying to act like a bad ass, trying to sing. But it should be easy to not feel silly, I kept thinking, when Sophia's been acting like a maniacal game show host all day and Rachel's been jazz-hands'ing in her psychedelic cat sweatshirt. This should be easy!
I suppose we sometimes gain inspiration from unlikely places. Like maniacs and cats.
Mike also asked me to take off my glasses because the lights reflected off of them. Which was actually kind of great for me, not being able to see very well, gazing into the camera in all my nearsighted glory. The faces in the room around me blurred and I couldn't see anyone's reactions to what I was doing. And maybe that's always been my trouble – I'm a little frightened of someone else's negative reactions.
They always say you should dance like no one's watching. But I say you should sing like you can't see very well.
And I don't know if I'm very good in our 48HFP film, if my singing's very good, but I tried my best. I didn't really pogo like I was in Joy Division or snarl like I was in Generation X, but I tried to let loose a little and have fun and not care if I looked silly. And even if I did, that's okay! It's okay to be silly! I won't be singing again anytime soon, but I certainly had a good time pretending it was something I'm into.
I also got to eat chocolate again on camera for the third year in a row – something I'm very capable of, super confident in doing, and will gladly continue to do both publicly and privately.

(behind-the-scenes photos by Rachel!)
RACHEL LEAH BLUMENTHAL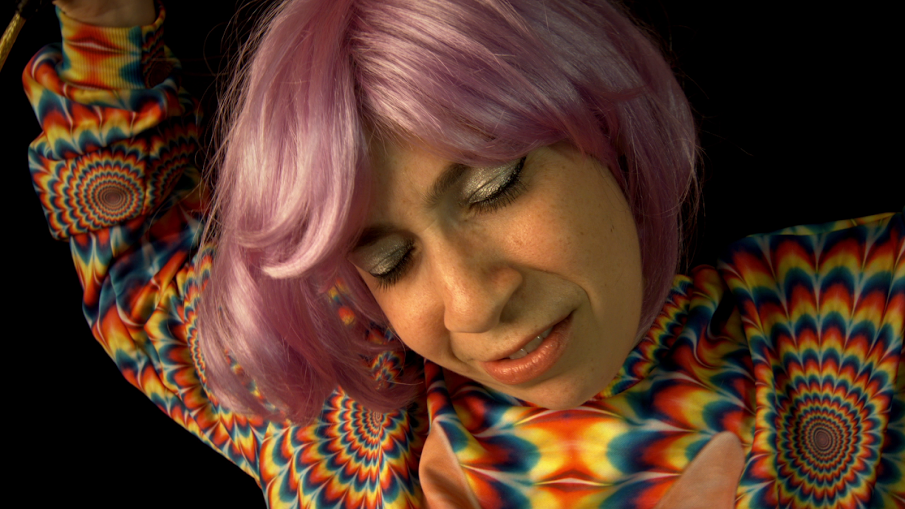 Well, I didn't pass out early on the couch this year like I did last year! I love all of our Los Locos Manos films, but this one feels the most like a good short film to me – one that other people in the audience will hopefully appreciate. It took us about four hours, I think, to settle on the story. It was difficult to get there. Mike insisted that we only think of the narrative, a potential punchline, while ignoring all of the bits and pieces we'd have to pull into it, which makes a lot of sense in theory. But in practice, it was hard to pull ideas out of thin air, and it may have been faster to grab one of the requirements and shape that into something. I'm glad it finally worked out in this way, though, because Mike was right in that we would have just ended up bending things to fit without actually having a strong story.
We spent a lot of time talking about short stories that we like and looking at synopses for shows like Twilight Zone to get our brains in the right place. I don't remember exactly where our final idea came from, but I think it has elements of stories like The Lottery – and I guess a little bit of The Hunger Games, or at least half the band seemed to think so! We were divided for awhile, but I was pulling for this one all along, so I'm glad it won out and that everyone seemed happy with it in the end. I think it has a good deal of dark humor and absurdity, and not just in the inside-jokey way that our previous submissions did.
Also, I got to wear a ridiculous outfit and sing lyrics like, "You don't like my cat. I'm not down with that." So there's that. Other highlights: Seeing Cathy's ridiculous footage from Paris (and wondering how she didn't get attacked by the French) and seeing Lisa begrudgingly sing a song and do a great job with it! Also, I'm terrified of Sophia…but I guess that's nothing new.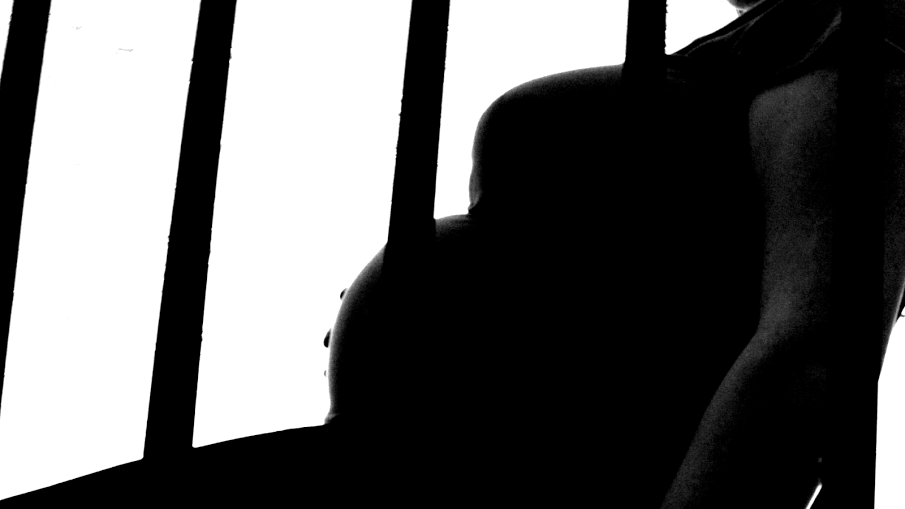 As I am about 7 months pregnant I was worried about whether I'd be able to hold up to the late nights and exhaustive work that creating a 48 hour film entails. Luckily my band mates are very accommodating to my schedule.  And this year we decided to involve "the boys" as well which meant my husband was also going to be participating and I was looking forward to working with him on the movie.
Friday night was just the band and we focused on coming up with a great concise story idea. I find that this is usually the hardest part and I think we have learned from not only from our past 48 hour film making endeavors, but also our song writing to a theme in short time frame (mostly for the Encyclopedia show) experiences to help figure out how to convey a clear and compelling story in a short amount of time. I think this year we did a great job at doing that and once we had the idea it was fairly easy to write the script.
We were able to incorporate songs again which is a lot of fun. We were writing lyrics late into the night and I was spouting off whatever lyrics came into my head as I was half asleep in my chair with my eyes closed. This lead to some pretty goofy songs, but I think they rock! Then I finally got home around 1:30 which was later than I had been out in months, but I felt pretty good about what we had accomplished that first night, and I felt bad that I was leaving when I knew the others would be up much later.
Compared to previous years I was not as actively involved in the shooting the next day mostly because there was not a real good role for a pregnant women to play. I did to get to be script supervisor for the first time and learned about taking notes about which shots and takes were useful for later. I was glad to be helping out during the shoot and I was very impressed by the acting, costumes and makeup put together by the other bandmates. I was also working on our "commercials" for the movie and coordinating with some family members to get a kid in the movie.
After we filmed the bulk of the main story line my sister-in-law and her daughter showed up for their commercial scene and I had my first experience of convincing a stubborn 5 year old to say lines for a movie. It was very entertaining and we were able to get the shots we needed. I also did find a way to involve my pregnancy in the movie through a very creepy commercial.
As we finished up the filming and recording for the songs Saturday night it seemed like we were in much better shape than previous years. I think this was due to our more concise story line and the help of other bandmate's "boys" in editing and recording. I finally went home around midnight and spent most of Sunday sleeping.  And I know that there was still a lot of work to be done and I'm so impressed and grateful to the contributions of those few who kept at it to the very end to finish the editing and other work so we can get a finished product.
So once again another great weekend working with talented and creative people and having lots of fun. I made it through with only being a little extra tired and it was also fun to be able to share the experience with John instead of just telling him all about it later.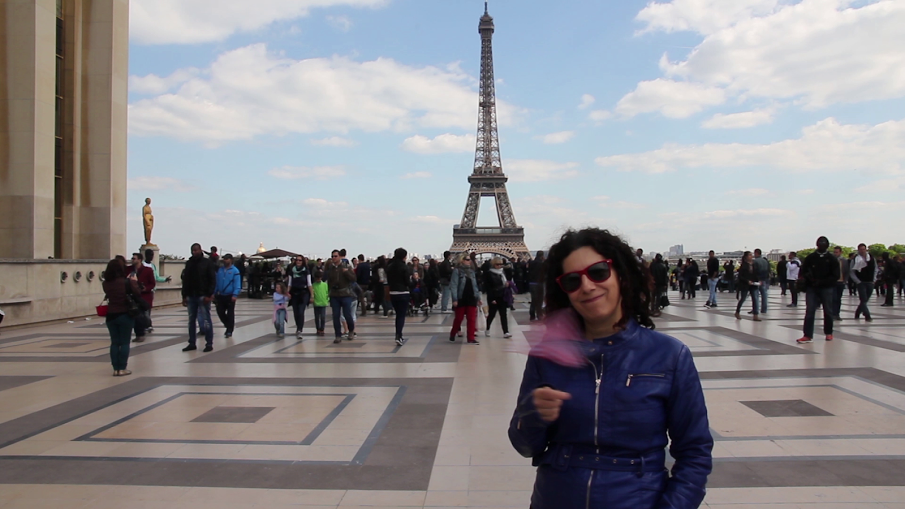 I knew I was going to be away, but still wanted to contribute to the 48 hour Boston Film Fest while in Paris (France).  The adventure (for me) began Friday May 2 at 3:30 pm Paris time.
First thing on my agenda was to acquire a suitable camera and a willing victim (volunteer) to operate it. Native Parisian Audrey Taravella (real name) agreed to act as camera op and location scout. Gaspard Duval (code name) – offered a camera that left a very secure top secret location with appropriate sliding doors, badge swipes and a maze of corridors leading to a room in which we received final instructions for how to USE the camera.
Next, waiting for news on what we exactly needed to do. I read the script (thought it was hilarious) and then received my special FRANCE INSTRUCTION. The words that stood out were Eiffel Tower = FREEDOM TOWER. use a twang and recite the other lines. Which included  "I LOVE AMERICA ".
I thought waving an American flag would add a nice touch to the moment, but I'm in Paris not Boston, where to find a flag? Audrey suggested we run to the tourist shops in Pigalle, we found one. A substitute would have been the French flag (red, white, blue) combined with the European flag (blue with stars).
Never in my life did I think I would stand at Trocadero with the Eiffel Tower in the background while calling it the FREEDOM TOWER, waving an AMERICAN FLAG saying how much I LOVE AMERICA. But I did and you can see it in the MOVIE.
No tourists were hurt while filming and no one really understood my accent so despite many strange looks, I did not get arrested and we got the shot.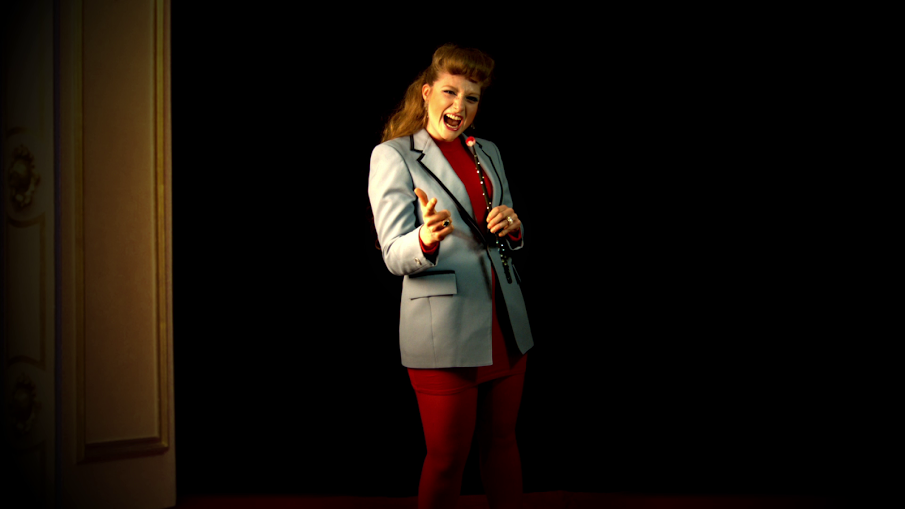 FULL CREDITS:
"La Loca Boca"
by The Michael J. Epstein Memorial Library
Producer: Sophia Cacciola
Director / Director of Photography: Michael J. Epstein
Written by: Jane Allard, Lisa Battiston, Rachel Leah Blumenthal,
Sophia Cacciola, Michael J. Epstein, Susannah Plaster
Edited by Dan St. Germain
Cast:
Sophia Cacciola – Lena Beamish
Lisa Battiston – Jacqueline Jones
Jane Allard – Jane Halley, Pregnant woman
Rachel Leah Blumenthal – Rae Gunn
Catherine Capozzi – Dr. Bonnie Higgins
Susannah Plaster – Ivana Wright
Diary Mom: Eileen Maguire
Diary Girl: Nora Maguire
John Walsh – Announcer, Commercial voice-over
Sound recordist and music engineering: Joel Edinberg
Production Assistant, Boom Operator: John Walsh
Camera (France): Audrey Taravella
Crowd: Jane Allard, Rachel Leah Blumenthal, Sophia Cacciola, David Joseph Clarke, Joel Edinberg, Michael J. Epstein, Eowyn Evans, Deborah Haber, Frank Houlihan, Liz McGuire, Meff, Susannah Plaster, John Walsh, Richard Wentworth
Music written by The Michael J. Epstein Memorial Library:
Jane Allard: melodica
Lisa Battiston: bass, voice
Rachel Leah Blumenthal: voice
Susannah Plaster: viola, voice
Sophia Cacciola: snaps, vibraslap
Michael J. Epstein: guitar
Thanks to Gaspard Duval for camera in France